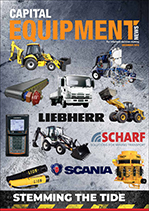 From the editor's desk:
As 2018 draws to a close, one of the key takeaways for Munesu Shoko, editor of Capital Equipment News, has been the industry's sheer commitment to stemming the tide of skills shortage in South Africa. That there is an overpowering need for skilled workers in the country is no point of contention. However, this year has been particularly encouraging, given the private sector's concerted efforts to help close the skills gap.
In-house skills development programmes are increasingly overtaking technical and vocational education and training (TVET). The skills development agenda indicates a shift in emphasis away from supply-led systems which dictate the mode of learning and the pathways to be followed. Instead, it places emphasis on developing skills in demand in the workplace.
Previously, companies have depended largely on state provision for skills development, and that model has proven to be a catastrophic failure; it is rare for the state alone to be able to offer the quality, quantity and range of training needed. In addition, state provision often suffers from several weaknesses. This is not unique to South Africa, many countries share a number of systemic weaknesses in their skills development systems. Notably, there may be a lack of up-to-date, reliable labour market data on which to base decisions on current and future skills needs and strategies for meeting the needs.
A fragmentation of responsibility for skills development between Ministries is another typical weakness, leading to a lack of strategic leadership and the inability to implement reforms, rather than responsibility for strategy clearly allocated to a single Ministry with a duty to liaise with all stakeholders.
Much has been said about South Africa's failed Sector Education and Training Authority programme and other initiatives geared at producing the technical skills required by the industry that have not produced the desired results. With several success stories this year, I am of convinced that the private sector is demonstrating that it has the necessary clout to bridge the skills gap in the country.
Getting the best value out of your pre-owned truck
Buying a commercial vehicle can be a big investment, especially when times are tough. One way to soften the blow is to look at purchasing used vehicles. However, before you buy a used truck, Scania South Africa advises that there are various issues to consider, and chief among them is taking a good hard look at both your potential purchase and its source.
The decision to buy a used truck is sometimes referred to as "smart buying decision" because of the advantages and value for money it offers. The primary benefit of buying a pre-owned commercial vehicle is mostly the cost savings. It is for this reason that the used truck market is showing strong growth signs in South Africa this year. One of the noticeable trends in the commercial vehicle sector is the enormous demand for good quality used trucks.
Harold Donachie, GM – Used Vehicles at Scania South Africa, says normally the used market enjoys a good run at the expense of the new vehicle sector. It is a different scenario this year, with both new and used heavy duty truck markets enjoying a bull run despite the current economic conditions, especially given the technical recession in South Africa.
Scania South Africa has already sold in excess of a thousand used units this year. "From a stock levels point of view, this year we have been running at a third of our stock levels of last year. This means that we have been turning around our stock a lot quicker than last year. The quality of enquiries is also lot better than last year," says Donachie.
Blueprint for SMME development
A collaborative initiative by several role players – a mine, an enterprise supplier development specialist, equipment suppliers and a financier – has afforded a start-up contractor access to market, as well as the necessary funding to purchase its first fleet of equipment. The model – which saw the contractor use its awarded three-year contract as collateral to secure financing to purchase capital goods worth R8,5-million – can serve as a blueprint for SMME development across an array of other sectors.
In recent years, lack of access to funding has largely been regarded as a major slippery slope for upcoming contractors. However, Otukile Moshori, MD of of Regoapele Capital, a leading enterprise supplier development specialist, says the funding drawback can't be resolved without dealing with the issue of access to markets first. "Unfortunately, many corporates do not create feasible access to markets for emerging SMMEs. This exacerbates the lack of financing because any form of funding is based on the ability to repay," says Moshori.
Regoapele Capital is an experienced company in this area. The firm focuses on opportunity-based development for upcoming businesses. This entails funding, financial planning, financial management and effective market access strategies for SMMEs. "We have a footprint across three provinces. We strongly believe in presence and proximity to markets and clients for effective and sustainable delivery," says Moshori.
Regoapele Capital recently played a major role in a collaborative initiative which Moshori deems as a blueprint for SMME development – the initiative balances the creation of access to markets with access to funding for SMMEs. As an enterprise and supplier development partner to Glencore Lydenburg Smelter, Regoapele Capital led the negotiations in securing a three-year contract for Sicediwe, a 100% black woman-owned small contractor based in rural Mpumalanga.