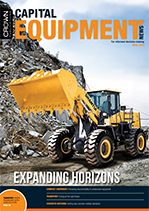 On the Cover: At its maiden exhibition at NAMPO, Ever Star Industries (ESI) will present a wide range of agricultural focused solutions – from both its Powerstar and Shantui stables – that speak directly to the needs of the farming community.
Grain SA's NAMPO Harvest Day – a staple on the calendar of the South African agricultural community and those who serve it – enables producers and other role players in the agricultural industry to experience the latest products and solutions on offer in the farming industry first-hand and in one place. Attracting close to 77 000 visitors and over 650 exhibitors every year, the show is said to be one of the biggest agricultural exhibitions in the Southern Hemisphere.
This year's show, to be held on May 16 to 19 in Bothaville, Free State, comes at a time when the local agricultural community is seemingly battling a lot of challenges – including droughts and poor yields. As a result, farmers are under pressure financially and are looking for reliable and rugged equipment and trucks that come at the right price, with the right aftersales support.
On its first exhibition at this grand show, ESI – through its Shantui and Powerstar brands – will showcase solutions that speak directly to the farmers' current needs. "We can offer a cost effective and efficient solution that suits most farmers. Added to that, we have great support structures on parts and aftersales, making ESI a top value proposition to the agricultural sector. Our trucks have already proven their reliability and rugged nature on and off African roads," says Marc Mynhardt, Sales Manager for Powerstar at ESI Centurion.
Dirk Poley, national sales manager – Shantui Yellow Equipment at ESI, says the Shantui range, which has also proved itself in more arduous mining and construction applications, offers an ideal product range for farmers seeking reliable and diverse tools that work across the various farming applications. The added advantage is that our products are price competitive and cost-effective and offer great support from a reputable company that puts its customers first.
"NAMPO is the perfect platform for us to showcase what we have on offer for the agricultural sector. It also presents us with an opportunity to grow our business in the agricultural sector, which currently constitutes about 15% of our total turnover," says Poley.
Driving progressive supply chain solutions
As 4PL Group continues to grow its multimodal supply chain solutions business across southern Africa, the company has expanded its fleet of Scania truck tractors within 4PL Fleet with the purchase of 15 new units, bringing its total tipper fleet to 75 Scania G460 units.
Efficiency and uptime are two significant parameters in the transport industry, especially in the current cutthroat trading environment synonymous with the Southern African transport industry. With this in mind, 4PL Fleet does not leave anything to chance when it comes to the acquisition of its truck fleet.
4PL Fleet was established in 2010, when 4PL Group, a privately-owned business focused on offering world-class multimodal supply chain solutions within southern Africa, acquired the logistics division of a blue chip South African company. 4PL Fleet is a third-party logistics business operating in the South African cross border bulk transport industry.
The business is a bulk commodity carrier that owns and operates a fleet of Scania G460 truck tractors equipped with interlink side tipper trailers. As Louis Adlem, MD of 4PL Fleet, explains, efficiency and uptime are non-negotiables in running a successful transport business, and for this reason, Scania South Africa, a reputable name in the local transport industry, has become 4PL Fleet's vehicle supplier of choice.
The 4PL-Scania relationship started back in November 2011 when the logistics solutions provider purchased its first G460 unit. At the time, it was running a fleet of 20 tippers trucks (sourced from another manufacturer). From there, it never looked back and standardised its whole fleet with Scania G460's. As part of a fleet expansion programme, the company took delivery of 15 new G460 units at the start of April. The latest acquisition brings to 75 the total number of G460 truck tractors in the 4PL fleet to date.
Ticking all the right boxes
UD Trucks Southern Africa has revealed its new Kuzer, a new medium duty vehicle that is set to be a strong contender in the segment, owing to its 150 hp engine, said to be the largest horsepower in this class size, as well as the 25% extra torque compared with trucks currently available in the segment. This is complemented by a 10% improvement in fuel efficiency compared with the previous model.
It arrives as a single model, the RKE150 42R, in a 4x2 freight carrier configuration. With a 150 hp engine, it is driven by a 6-speed manual transmission and comes with a gross vehicle weight (GVW) of 8 999 kg and a wheel base of 3 850 mm, making it a perfect fit for inner city logistics.
According to Gert Swanepoel, MD of UD Trucks Southern Africa, the new Kuzer addresses fleet owners' requirements for an efficient, safe and dependable commercial truck. "Following the vision of UD Trucks' founder, Kenzo Adachi, to make the truck the world needs today, Kuzer has been developed and built with robust design, modern solutions and a robust engine," says Swanepoel.
Rory Schulz, marketing director at UD Trucks Southern Africa, describes the new Kuzer as a flexible first for urban distribution. "Kuzer is specifically aimed at fleet owners looking for flexibility to operate in the urban logistics environment. It can easily serve as mini-compactors or as robust delivery vehicles for bakeries in rural areas," says Schulz.
The name "Kuzer" is inspired by the Japanese onomatopoetic sound of wind, taking on the meaning 'run as if flying swiftly against the wind'. Swanepoel says the Kuzer is all about manoeuvrability with a short turning radius to quickly move in and out of docking bays and tight parking spots. With a large and comfortable cab, Kuzer also provides a better working environment for operators and their crews who use their truck as a mobile office, stopping and off-loading cargo multiple times a day.
"There is potential in the light heavy commercial vehicle segment with an increasing demand for durable and efficient trucks to support the productivity of businesses in an ever-changing business environment. We believe Kuzer will contribute to smarter logistics, distribution and commerce in South Africa," says Swanepoel.