The SAFEhouse Association has published a number of user-friendly guides to provide technical overviews, regulatory information and buying guidelines for the South African electrical industry.
Pierre Nothard, chairman of the SAFEhouse Association, says the prevalence of sub-standard electrical products in South Africa is partly due to misinformation and a lack of information. In an effort to address these issues, the SAFEhouse Guides, which have been authored by industry specialists, provide information that is relevant, concise, and that promotes compliance and electrical safety.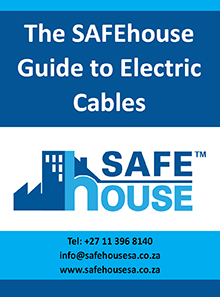 A SAFEhouse Guide to Electric Cables
This guide describes the components of electric cables: conductor, insulation, bedding, armouring, outer sheath and markings. It covers voltage rating, current rating, short circuit rating, and earth fault rating. It also lists the compulsory specifications for South African electric cable and gives details of locally manufactured low voltage, medium voltage and high voltage cables. Examples of substandard cables being sold in South Africa are given along with advice on what to look for when buying cable.
Click on the cover to download this guide.