In response the transformational agenda in South Africa, Cosmo Industrial has introduced a range of consultancy, training and admin services to make it easier for its clients to earn local procurement, recruitment and skills development recognition points, along with SETA approval for training grants against the Skills Levy.
Cosmo Industrial opened its one-stop welding and industrial superstore in Silverton, Pretoria back in 2009, this following a decade and half of servicing the equipment needs of South African Industry.
But both Cosmo and South Africa are significantly different today. "As well as the walk in store, we have also opened several distribution businesses: Cosmo Manufacturing Supplies; Cosmo Construction Suppliers; Cosmo Railways Suppliers; Cosmo Mining Suppliers, Cosmo Automation Solutions; and Cosmo Training Academy, which are all Level 2 B-BBEE companies specifically set up to make doing business with Cosmo as easy as possible," says Van Nieuwenhuizen, adding that Cosmo Automation Solutions has recently been launched and is busy servicing its first customers.
All companies in South Africa now have to do business in a new way, engaging with the rules of the day in order to support South Africa's transformation while, at the same time, promoting economic success and growth. "We have now restructured our company, not only to comply with these rules as an approved supplier, but also to help our customers extract the maximum benefit available from employment, training and local procurement incentives available to those that do comply.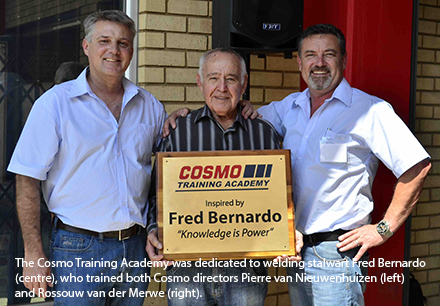 "We are making it easy for South African companies to do business the South African way," Van Nieuwenhuizen says.
Every company has to pass a percentage of its pay role over to the Skills Levy, for example, but that money can be reclaimed if the company implements a skills development programme for its employees. "But our customers are in manufacturing, mining, maintenance and construction. Their focus is not on the business rules and reporting that has to be applied to get any money back. So they tend to lose out.
"If, as part of supplying the equipment that customers need, we can also implement solutions to help clients comply better with skills development, B-BBEE, local procurement, youth recruitment and enterprise development, then everybody wins," he notes. "By coupling our normal business with services such as these, customers start listening in a different way," he adds.
Describing the solutions that Cosmo can now offer clients over and above the supply of welding, cutting, manufacturing and PPE products and equipment they need, he says that, by spending their skills levy and procurement budgets more deliberately, South African businesses can grow much faster. As well as the procurement recognition that accrues from doing business with a Level 2 company on the B-BBEE scorecard, recruitment and skills development points can also be accrued by adopting skills-based training.
Through the Cosmo Training Academy, Cosmo is offering a turnkey skills development solutions. "We are offering skills development facilitation (SDF) services, where we are able to compile workplace skills plans (WSPs) prior to implementing skills training. Then we produce annual training reports (ATRs), in the required format after each year. These reports are essential in order to secure the training recognition points and they enable companies to claim back against the skills levy paid for that year.
"Through this service, we take over all of the responsibility for the admin required, taking a huge burden off customers. Companies have to comply with very specific reporting formats to get any recognition and this is often just a step too far for them. So now we offer it as part of the Cosmo service package," Van Nieuwenhuizen reveals.
The service involves consulting on how to use Skills Levy investments in the most effective way: producing all the reporting and the learner management functions: from recruitment, psychometric testing, pretesting and screening to make sure candidates are suitable; procurement of the necessary training; and all the way through to reporting and re-evaluation. "And we can do this for any skills shortage area identified: welding, boiler making, health and safety, fitting and turning, etc – all the way up to SAQA N4 Engineering trades," he tells African Fusion.
"Industrial customers also have admin staff sitting in offices that need upskilling. We are able to evaluate a whole business to identify the best way the company's skills spend might be employed," he adds.
Citing a current example, Van Nieuwenhuizen says that Cosmo is currently delivering its skills development services to Penbro Kelnick, the industrial electronic equipment manufacturer. This involves compiling a WSP report and submitting it for approval to the Merseta. Then we advise on what type of training courses the staff needs.
"We are also recruiting suitable unemployed people to fill gaps, as well as identifying those currently employed for upskilling. And the identified training can happen anywhere, on site in factories, in their office facilities or, if practical training workshops are required, in the Cosmo Academy," he explains.
The Cosmo Training Academy is being accredited for welding-related courses, all the way up to the new QCTO – Qualification Council for Trades and Occupations – Welder Training. "And we are about to become an SAIW Authorised Accreditation Body (ATB), which will also allow us to offer internationally recognised IIW-accredited training courses," he notes.
"By offering South African clients this turnkey solution for optimising their procurement, recruitment and training spend, we are engaged in business partnerships that take the idea of turnkey solutions to another level. We are merging skills development and B-BBEE recognition with enterprise spending and procurement to make it much easier for companies to be successful while fully complying with South African laws," Van Nieuwenhuizen concludes.