As equipment owners constantly investigate ways to reduce their operational costs by expanding the application range for their hydraulic excavators, backhoes, skid steers and wheel loaders, crushing buckets offer new possibilities for processing soft and brittle materials, writes Munesu Shoko.
As the attachment revolution continues apace, the crusher bucket is one of the tools that has established itself in the equipment industry in recent years. The attachment uses hydraulic power from the loader or excavator to which it is attached, making it easy to gather rock, crush and load into trucks or use in situ – adding value to operations and existing tools at the job site.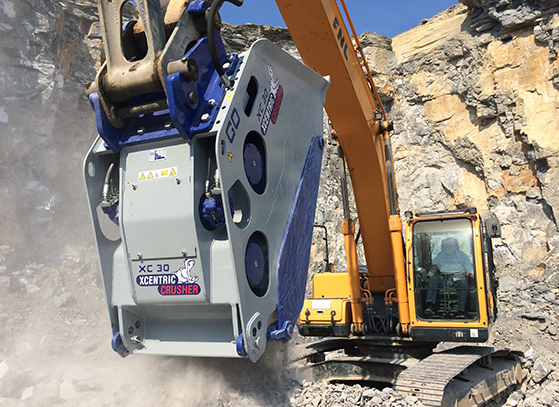 Some of the leading names that come to mind as far as crusher buckets are concerned include MB Crusher, ALLU, Epiroc, Xcentric Ripper International and Simex, among others. Amanda Roets, regional business line manager: Drilling Solutions and Hydraulic Attachments at Epiroc South Africa, says recycling has become a huge trend in South Africa, especially on building sites where demolished material is being crushed, recycled and used again. The crusher bucket has since become a tool of choice in this application.
Speaking about the uptake of the crusher bucket in the local market, Marjut Lindroos, Global Marketing Manager at ALLU, says South Africa and Africa at large have a role in the future growth strategy of ALLU. ALLU buckets have been sold directly from the factory to various applications over the years, but in 2019 the focus is on the expansion of the company's dealership network to also cover the southern part of Africa.
MB Crusher sells its jaw crusher buckets across the whole of Africa. Its solutions have recently been used in some of the continent's famous projects. A recent case in point is the Djibouti Ports & Free Zones Authority's construction of a US$3,5-billion free trade zone, which extends over 4 800 hectares. The MB BF120.4 crusher bucket, mounted on a Volvo EC3800L excavator, was deployed to crush over 1-million m³ of basalt for road construction purposes.
Reflecting on drivers behind the growth of the crusher bucket, Najmeddine Sahraoui, MB Crusher deputy GM for Middle East and Africa, says that we live in a time where people all over the world are concerned about what will happen in the future, and are wondering how best to use available resources more sparingly.
"The population continues to grow, and with it is the demand for raw materials. It's precisely for this reason that the waste material processing equipment sector has evolved so rapidly and brought cutting-edge solutions such as crusher buckets to construction sites. Solutions like the MB crusher bucket, a product that creates value, is good for the environment and maximises profits for companies that use it."
Ranges in focus
Epiroc offers four models, namely the BC2100 (0,5 m³ loading volume) for 18-28 t carriers; the BC2500 (0,8 m³ loading volume) for 22-30 t carriers; the BC3700 (1 m³ loading volume) for 28-38 t carriers; and the BC5300 (1,2 m³) for 35-54 t carriers.
MB Crusher offers one of the widest ranges of jaw crusher buckets – 12 models in total – from the smallest, the MB-L series for skid steers, loaders and backhoes, to the largest BF150.10, suitable for excavators from 70 t and above.
The ALLU range consists of Transformers and Processors. With operating capacity of up to 1 000 t/ hour, the ALLU G series Transformer is said to be the largest model ever produced. The ALLU Transformer is not a crusher bucket in the traditional sense. It is a high-capacity, multipurpose material processing bucket with which you can screen, mix and crush.
Meanwhile, the ALLU Processor is a power mixer attachment which converts any excavator into a powerful and versatile mixing tool capable of penetrating and effectively mixing a variety of difficult materials. Materials suited for the attachment range from clay, silt, peat, sludge and sediment, to dredged material and contaminated soil.
Xcentric Ripper also offers a wide range of crusher buckets. Pieter van der Merwe, MD of Xcentric Ripper South Africa, says the company has seven models available for the local market. These include the XC15 (for 13-15 t carriers); the XC17 (for 16-20 t carriers); the XC20 (for 20-25 t carriers); the XC30 (for 24-35 t carriers); the XC40 (for 32-40 t carriers); the XC50 (for 38-55 t carriers); and the XC60 (for 52-70 t carriers).
Application range
Crusher buckets definitely offer new possibilities when it comes to processing materials on site. However, they are not designed to replace specialised crushing and screening equipment such as mobile crushers and screens. Nonetheless, they have certain applications where they are a cost-effective solution to process material.
Roets says the use of a traditional crusher is often hindered by its size, and bucket crushers can be an alternative at urban worksites and in confined spaces. "BC bucket crushers can handle all types of inert material such as asphalt, stone and concrete debris, as well as mine and quarry material," she says.
MB Crusher's application areas are far-reaching – from road construction sites and demolitions, to laying of new pipelines, mining and quarrying, disposal of railway sleepers, lamp posts and vineyard poles. MB crusher buckets can also be applied at large recycling centres where iron, foundry waste, glass and many other materials are salvaged.
"Even large companies that already have big crushing plants within their quarries sometimes decide to adopt MB crusher attachments, allowing them to cover many situations and special processes, such as confined areas and spaces that are difficult to access," says Sahraoui.
Van der Merwe says the increase in production per hour, with long maintenance intervals (200-hour intervals), and a powerful heart that provides the necessary reliability to work with it constantly, makes the Xcentric Crusher a machine that will turn stone crushing or recycling materials processes more profitable.
"This is possible thanks to the Patent-Pending technology that applies a high inertia power train, circular jaw movement, as well as a new and easy anti-stagnation plate, which prevents large shredding pieces from getting stuck in the bucket's mouth, preventing them from entering the crushing jaws," says Van der Merwe.
The ALLU Transformer attached to a carrier is a mobile unit, able to access even the most challenging jobsite conditions compared to traditional screening/crushing plants. It is ideal for all applications that require screening and/or crushing, mixing and loading. "The application range is wide – from crushing glass and screening top soil, to crushing candy waste, stabilising contaminated soil, padding pipeline and crushing bark," explains Lindroos.
"ALLU technology transforms everything around it, making customers more productive, environmentally friendly and profitable. With versatility at its very core, the Transformer will process just about anything you send its way. Materials include construction debris, topsoil, excavated soil and contaminated soil, clay, peat, bark, compost, bio-waste, milled asphalt, coal, oil shale and limestone. In effect, virtually any material that can be crushed, screened, sized and sorted," says Lindroos.
The ALLU DL Series of Transformers has been designed to be mounted on 12-t loaders and 8-t tractors and backhoe loaders. This means that they are ideally suited to the requirements of companies needing limited, yet profitable, material separation, crushing and processing. The basis of the DL bucket is the unique top screen where the screening blades spin between the top screen combs with the end material size being defined by the space between the combs.
Likewise, the ALLU Transformer D Series comprises a reliable screening bucket ideal for a variety of screening and crushing projects. While the versatility sets the range apart, the models share the DL-series' use of innovative fine-screening TS® drum construction with standard blades.
"The ALLU M Series (and G Series) is specifically suited to companies that deal with large amounts of material on a regular basis. The range has been designed to fit excavators and wheel loaders of up to 160 t, being able to screen and crush materials from 15 mm to 150 mm feed size. Powered by the carrier, these hydraulic attachments provide quick and efficient production, solve chute blockages and other material flow problems, as well as providing a solution for the transportation of frozen or saturated material heaps and so forth," says Lindroos.
Some business areas that have specifically benefitted from the ALLU Transformer range include:
Landscaping and agriculture: The DL Series is a perfect attachment for landscaping and agricultural applications. From composting to aerating, top soil screening to waste and debris processing, all can be carried out on site.

Earthmoving and demolition: Using a Transformer attachment eliminates the need to transport excavated soil and rubble. Not only does this result in substantial savings in material and transport costs, but no time is lost waiting for replacement material. Additionally, binders can be mixed if the job undertaken requires stabilisation.

Mining and quarrying: If working where there is a requirement for crushing of soft rock, by using a Transformer, the crushing and loading of the raw material can be done at the same time. The attachments reduce the need for buffer storage areas and material transportation, while investment costs are much lower than the large stationary processing stations.
Features and advantages
MB crusher buckets are said to be the only ones in the world that do not need drainage. They have a low hydraulic demand both in terms of the need for pressure and hydraulic flow rate. The extreme compactness and low centre of gravity improves balance and drastically reduces strain on the excavator arm.
"MB's crushing productivity power exceeds 110 m³/hour thanks to the exclusive power enhancer, which allows the bucket to crush the hardest and most tenacious materials such as basalt and granite, ensuring a finished product with the lowest price in the market and in compliance with the high quality standards required for waste material reuse," says Sahraoui.
Roets says using crusher buckets offers less transportation or dumpsite costs – crushed material can be directly reused on site or sold to third parties. "Our range of bucket crusher range offers up to 80% higher output than the predecessor models. The bucket crushers are an innovative answer to crushing requirements on today's worksites," says Roets.
By using a rig-mounted bucket crusher, Sterley says all types of inert demolition material can be crushed and re-used on site. "The process requires less mechanical equipment, less transportation and dumpsite costs and only one operator who handles the demolition attachment, as well as the bucket crusher," says Roets.
"Wherever contractors need to minimise noise and vibration during demolition, guaranteed high precision in selected demolition jobs or deal with concrete, rebar and ever steel girders in one process, our silent demolition tools provide the answer," adds Roets.
Van der Merwe says placing the crushing jaws in a cross position, together with its circular motion, gives the Xcentric Crusher the faculty of grinding wet material. "This way, what you get is the movable jaw to 'bite' the wet material and together with the circular movement drag it to the outlet, without sticking to the walls of the bucket," concludes Van der Merwe.