South African manufacturer Pratley has recently undertaken an extensive revamp of its two main test and research laboratories. CEO Kim Pratley says this has bolstered the company's unique position among electrical equipment manufacturers globally in that it has the capability to manufacture base polymer materials in-house as well as the end products in which it uses them.
Pratley's two fully-equipped laboratories at its Krugersdorp head office are staffed by qualified scientists and technicians. One of the laboratories is dedicated to testing electrical products and has the distinction of having more state-of-the-art equipment than the SABS – to the extent that other accredited laboratories approach Pratley to make use of its advanced equipment.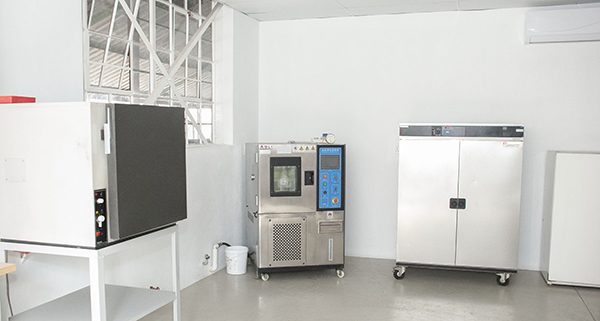 Pratley's newly upgraded electrical testing laboratory is equipped to test equipment to IEC 60079 specifications for hazardous environments, as well as other standards specifications.
This includes: impact testers to gauge the impact resistance of electrical products, water ingress testing equipment to determine the level of water-tightness, a dust chamber to test resistance to ingress of dust particles in electrical enclosures, a salt-spray tester to test corrosion resistance, an environmental chamber that ages materials at different temperatures and humidity levels, and tensile-strength testing equipment.
The chemical research laboratory is divided into two main focus areas, handling inorganic and organic materials. The former involves mainly mineral analysis, including contract work for external parties. The advanced equipment used here includes two electron microscopes, one for imaging and one for analysis, an array of high-end optical microscopes, an X-ray diffractometer machine, and an inductively coupled plasma spectrometry machine.
In the organic materials area, the focus is mainly on polymers, and hence, adhesives. "Essentially adhesive science is a specialised polymer science," says Kim Pratley. "The synergy with our electrical equipment manufacturing is due to the fact that modern electrical enclosures are based on plastics and rubber, which are polymers.
"Hence, we have a cross-pollination in terms of our R&D capability that we can bring to bear on the electrical side. This represents a major competitive advantage for us and makes us unique among similar companies worldwide," he highlights.
Pratley produces more than 1 000 electrical products and more than 10 000 components at its Krugersdorp facility. The company also manufactures all the component materials it uses in its products. This integrated manufacturing process establishes a further competitive advantage. It allows Pratley to include the policy statement: 'The performance of our products must exceed all others on the world market' signed by Kim himself, on all of its product packaging, for adhesives or electrical equipment.
"We really mean that, and it drives our research and development. We cannot achieve this policy without significant and ongoing R&D investment. For the size of our company, we probably spend proportionately more on R&D than any other manufacturing company in South Africa," Kim says. This ranges across the various divisions, from adhesives to electrical equipment and minerals.
While Pratley's major focus is on adhesives and electrical equipment, it has also done significant work in other areas. As a result, the company has more than 350 patents filed worldwide to date, with applications as diverse as the use of its Perlite and Zeolite minerals for deep-level mining refrigeration systems, as high-end catalysts for the petrochemical industry, or as a method of cleaning up oil spills and even nuclear waste. The company also proudly claims that its Pratley Putty, invented at the Krugersdorp facility, is the only South African product to have gone to the moon.
Enquiries: Pratley, T. +27 (0)11 955 2190, or email: sales@pratley.co.za