Endeavour Mining Corporation, listed on the TSX, has announced commercial production of its Ity CIL project, in Côte d'Ivoire, at its full nameplate capacity following a quick ramp-up phase.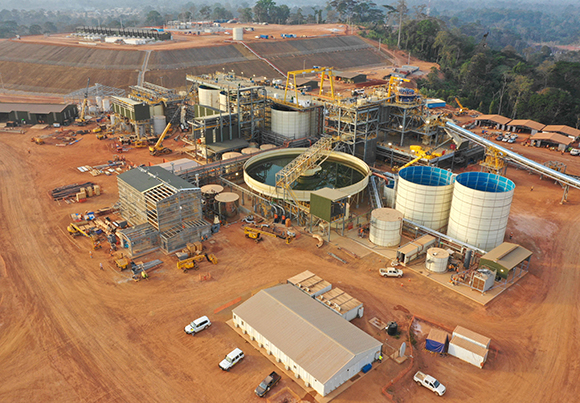 Recent view of the Ity CIL site (photo: Endeavour).
Sébastien de Montessus, President and CEO, stated: "I would like to congratulate the entire team for their hard work in helping us achieve this major accomplishment for Endeavour. Achieving commercial production at the Ity CIL project marks a transformational moment in our history and an inflection point as we significantly increase our free cash flow capabilities."
The Ity CIL project began processing ore on February 20, 2019 and achieved its first gold pour – which yielded approximately 1 800 ounces of gold – on March 19, 2019. Its performance trial testing was recently successfully completed with all key metrics meeting prescribed targets: a processing rate exceeding 11 100 tonnes per day, an overall plant availability of 96 %, and gold recovery rate of 94 %.
Ity is expected to produce 160-200 koz in 2019 at an AISC of US$525-590/oz, with the bottom-end of the production guidance corresponding to the 4 Mt/a nameplate capacity while the top-end already factors in upsides such as an earlier start date, an expedited ramp-up and the plant producing above its nameplate.
Endeavour has launched optimisation and de-bottlenecking work which is expected to increase the plant nameplate capacity by 1 Mt/a to 5 Mt/a, at a minimal cost of US$10-15 million. The volumetric upsize work mainly comprises an upgrade in pipes and pumps, and a second 50-tonne oxygen plant with no additional mining fleet required. These plant upgrades are expected to be completed during scheduled plant maintenance shut-downs throughout the next six months.