Despite founder Pierre Northard's recent retirement, SAFEhouse, an association of organisations within the South African electrical industry, will continue to focus on long-term growth and a stronger working relationship with the National Regulator for Compulsory Specifications (NRCS).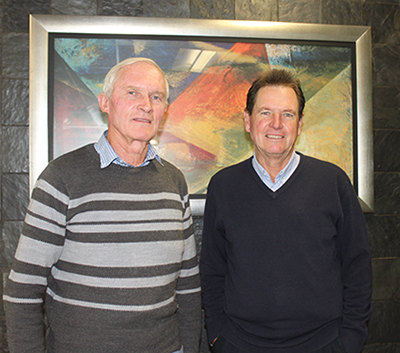 The association was formed in 2012 to combat the prevalence of unsafe products and services in South Africa by informing buyers and others who influence buying decisions of the criteria by which to assess these products and services, and by exposing specific cases of sub-standard products and practices. SAFEhouse is not a consumer body, nor is it a forum for consumer complaints, however, it welcomes justified, safety-related complaints from any party, including commerce, industry, government and individuals, about members' and non-members' electrical products or services.
The two people tasked with taking the organisation forward are Connie Jonker and Barry O'Leary. O'Leary has been with SAFEhouse since 2016 and joined the organisation after 40 years in the electrical industry. After an initial foray into the banking industry – which he notes gave him a good admin and systems background – he joined Bowthorpe Hellermann, today known as HellermannTyton, and worked there for 14 years in sales, and then administration, under Cliff Rosenberg. He was at Three D Agencies for 15 years, working his way up to national sales manager, before starting Emery Flex with Pat Shaw from Major Tech. After the company was bought by Major Tech, he spent a further 15 years as the operations director at the company before retiring. "Because of my wealth of product expertise, Pierre approached me to join SAFEhouse," he says. Jonker, who joined the association this May, has a background in lighting, specifically in product testing, certification and certification systems.
"I worked for the SABS for three quarters of my working life, predominantly in the SABS Lighting Technology division. I came up through the ranks from being a laboratory assistant right up to manager of the SABS Electricity Utilisation Department. My passion has always been lighting, and I have spent much time in laboratory development of test methods, building equipment, writing specifications and being involved in national and international standards writing," he explains. Through the SABS, Jonker had the opportunity to conduct factory inspections throughout 15 different countries and was part of the development of compulsory specifications. Jonker's value to the organisation comes from the fact that he has been on both sides of the fence, having also worked for a circuit breaker company where he was on the receiving end of certifications and regulations. There he dealt with international certification bodies such as UL, VDE and CEBEC.
"Previously I was a technical advisor for IESSA, which is similar to SAFEhouse in its commitment to standards and to a code of conduct to ensure that products supplied to the market are compliant," he says.
The way forward for SAFEhouse
The main focus for SAFEhouse in the future will be to expand its membership. "While most of the major suppliers are already members, we are looking at ways to accommodate smaller suppliers that are also committed to quality, but who may not be in a position to afford the membership fees – the more logos of companies we have on our marketing material, the more confident users will be," explains Jonker. He notes that electrical contractors can also join the association, which not only offers a commitment to provide good, reliable products, but services too.
"Numbers will give us strength, which is what we need at this point," confirms O'Leary. "We need a voice behind us, because at the moment we have no legal standing. We can't make demands on customers – we can advise them, we can publish articles, but we cannot get non-compliant products taken off the shelves."
Aligned to this, SAFEhouse is in the process of forming a close working relationship with the NRCS, which the pair admits has its frustrations. "We made the decision in our last special meeting to continue trying to work hand-in-hand with the NRCS. We are not here to fight them; we are eyes and hands for them on the ground," explains O'Leary. "At the moment, the industry is in the position where there is an adverse climate because of the way compulsory specifications are implemented," notes Jonker, bringing up the Suppliers Declaration of Conformity – SANS 17050 – which has been documented and adopted as a national standard, yet is not being promoted. "The SABS and the NRCS will not benefit from this, and could potentially lose income, as it is a declaration of conformity from the manufacturers. It is something that is alive and well throughout the industry, but people don't realise it," he says.
"It is just not possible to get everything tested by an accredited laboratory, therefore it makes sense to utilise the expertise and test facilities of a wider group of people, and that includes manufacturers."
While the challenges for SAFEhouse are clear, O'Leary and Jonker are confident that with hard work and participation from the industry, the organisation can achieve its goals. "When I look at Pierre's computer, it is clear that although he was terribly busy, he managed nevertheless to do a tremendous job. He set a very good basis and a high level of quality, which we will strive to maintain," says Jonker, concluding that he believes there are many companies in the industry which believe in doing the right thing.
Enquiries: www.safehousesa.co.za