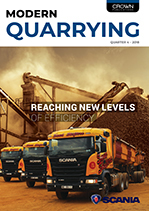 On the cover:
A fleet of 11 Scania G460CA6X4MSZ truck tractors has introduced a 'new level of efficiency' to Sand Shifters' aggregate retail and haulage business.
As part of its fleet expansion programme, leading Gauteng-based aggregates retailer, Sand Shifters took delivery of its 11 x G460CA6X4MSZ truck tractors from Scania at the start of this year. This was complemented by two P410CB8x4MHZ brick carriers used in the company's brick division. To date, Garth Greenwood, MD of Sand Shifters, reports that the Scania range has introduced a new level of efficiency to the aggregate haulage business.
Started by the Coleman family back in 1995, Sand Shifters is a well-known aggregates retailer across the Gauteng area. "We started out from one owner-driven truck to a fleet of well over 50 units today. Our core business is retail of aggregates and building materials. Over the years, we have established ourselves as leaders in the aggregate retail and haulage business," explains Greenwood.
Over the past 23 years, Sand Shifters has built up strong relationships with all the big players in the quarrying sector. Because of the volumes that the company moves, it gets the benefit of good product pricing. "The real beauty of our business is that we are not area based. Our main operations happen across the whole Gauteng area. We collect material from over 40 different quarries, which allows us to be competitive across the whole province," explains Greenwood.
For a business of this nature, reliability, uptime and efficiency of the fleet are crucial operational parameters. Reliability means that customer orders are always delivered on time, while uptime ensures that the fleet is always on the move, delivering scheduled orders as planned. Efficiency means that the fleet is running cost-effectively. To date, Greenwood is mostly satisfied by the "new level of fuel efficiency" the Scania fleet has injected into the business.
Offering new concrete possibilities
Having listened to its customers, Liebherr Africa has locally developed its DBP 60-M, a fully automated mobile dry batching plant that is said to set new mobility standards. It is a trailer-mounted plant which is road legal. The National Regulator for Compulsory Specifications (NRCS) allow for such equipment to be registered as platform equipment, which avoids registration costs associated with a goods-carrying trailer.
Martin Greyling, service manager – LMT at Liebherr Africa, explains that the new plant is a result of customer feedback and is designed to meet the operational needs of the local market. However, the plant will soon be exported to other markets.
Sean van der Merwe, area sales manager – Concrete Technology at Liebherr Africa, explains that the DBP 60-M was developed with a specific focus on addressing local customers' operational concerns. He mentions that the key requirements the market demands are low maintenance costs, cost-effective transportation, assured concrete quality to the end customer and reduced installation time (cost).
"The plant is ideally suited to customers who wish to produce concrete for short to medium-term projects, such as housing developments and road construction, to mention a few. Deep rural grassroots projects can also benefit from the DBP 60-M as it offers a quick solution for consistent production of concrete in remote environments," says Van der Merwe.
Protecting quarries from rockfalls
Any quarry's safety and operations may be threatened by rockfall hazards, which can sometimes cause serious disruptions to mine productivity. This may result in significant financial losses. With more than 120 years' worldwide experience, Maccaferri offers a wide range of rockfall protection systems to help open-pit operations stabilise rock faces, resulting in increased safety and reduced risks and costs.
Having previously concentrated on the mining sector, leading global rockfall protection specialist, Maccaferri is expanding its market reach to include the local quarrying sector. The company has operated in South Africa for over 60 years, but with a specific footprint in the mining sector.
It has already completed some major rockfall protection projects on some local mining operations. Maccaferri has recently installed rockfall solutions at De Beers' Voorspoed and Venetia mines. Further local projects include Foskor Mine, Letseng Diamond Mine, Jwaneng Diamond Mine, Orapa Diamond Mine, Sefateng Mine, Motae Mine and Mogalakwena Mine (Anglo American platinum mine), to name a few.
The focus has now turned on quarries, according to Juan-Louis de Beer, Area Manager Technical Specialist: Rockfall at Maccaferri. "Our solutions are installed all over the world. No matter what the size of the operation, we will be able to provide a solution," he says. "Rockfall protection is of utmost significance at mining and quarrying sites as any damage to infrastructure or people, resulting from a rockfall event, may cause a shutdown, which has a massive cost implication."