Businesses looking for A-grade office space in the highly desirable Fourways node need look no further than Monte Circle for their new premises. Monte Circle is an attractive new office park located just off William Nicol drive, across the road from the Montecasino complex. Developed by Abland, this 77 000 square metre office development ticks all the boxes when it comes to giving the modern occupier everything they need.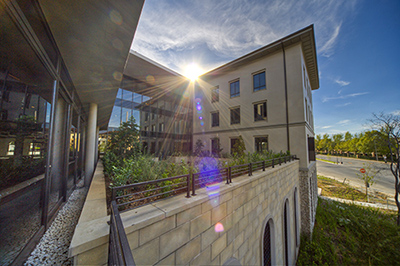 Monte Circle's prime location gives it excellent accessibility (particularly from the northern access routes) and visibility. It is situated on a Gautrain bus route, which effectively links it easily to O.R. Tambo International Airport. Furthermore, as infrastructure upgrades continue to take place in and around Fourways – including the extension of the Gautrain route and the development of a new Gautrain station – its accessibility will only improve.
Monte Circle will also, form an integral part of the surrounding neighbourhood, within a short walking distance of the Montecasino complex, where a variety of hotels, function venues and conferencing facilities are available. One of Abland's key development philosophies is the creation or encouragement of sustainable precincts, of which the company's developments form a part. The office park itself is designed to be pedestrian friendly and will be attractively landscaped, making it an asset to the neighbourhood in which it sits. Its 'village' feel with tree-lined boulevards and inviting outdoor spaces is intended for enjoyment by tenants and even a little social interaction.
The completed development is expected to consist of about 10 buildings, although this number is flexible and will ultimately depend on the requirements of the tenants secured for the office park (within the allowable bulk). Monte Circle's development manager, Janet Glendinning, explains that because Monte Circle is being developed in manageable phases and according to tenant demand, it is possible to accommodate different size requirements for tenants. In addition, the campus style design makes it possible for businesses to expand into additional buildings within the park over time, giving them flexibility.
The first building at Monte Circle is complete and is 60% let. The second building is underway at present and interest from prospective tenants has been good. Although the office market is fairly well supplied at present, it can still be a challenge to find quality office space in the right location. Abland believes that in the immediate vicinity, there is very little in the way of office space that can compete with the offering at Monte Circle.
Adding to its appeal is the fact that the developers are fully committed to building sustainably – something which is starting to command a premium in the market. Building 1 already has a 4 Star Green Star SA design rating from the Green Building Council of South Africa, with a particular focus on energy efficiency aspects. The intention is to obtain certifications for all the buildings. A further advantage, which can be implemented at the request of a tenant, is the possibility of including roof gardens on top of the buildings. These would also double as attractive social and entertainment spaces.
It is now an Abland standard to install back-up generators and rainwater collection tanks at all its developments. Harvested rainwater is used for irrigating gardens, which are all landscaped using indigenous and water-wise plants – and will be at Monte Circle.
Tenants can expect the kind of security, high-tech infrastructure and services that are part of a high-end office development. Abland will also be providing a tenant fit-out allowance to assist with interior fit-outs. In addition, various value-add facilities and services will be included in the park and offered to tenants.