Perseus Mining Limited (ASX/TSX: PRU) has reported continued exploration success at its Yaouré Gold Mine in Côte d'Ivoire.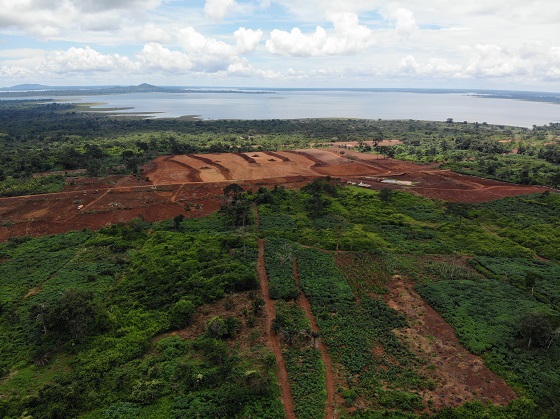 Recent results from Perseus's ongoing infill and down-dip extension drilling on the CMA structure at Yaouré confirm strong potential for further mineral resources beneath the CMA open pit (CMA Underground prospect).
Infill drilling of the Inferred resource continues to confirm gold mineralisation consistent with previous results from this area, with recent drill intercepts including:
o YRC1881D: 10 m @ 6,61 g/t Au from 236 m
o YRC1883D: 8,10 m @ 7,27 g/t Au from 328,1 m
o YRC1903D: 10 m @ 3,03 g/t Au from 337, including 3 m @ 8,76 g/t Au from 337 m
o YRC1904D: 13 m @ 3,77 g/t Au from 294 m
o YRC1905D: 9,8 m @ 4.18 g/t Au from 245 m
o YRC1909D: 6 m @ 7.57 g/t Au from 304 m
o YRC1911D: 8 m @ 4,40 g/t Au from 227 m
o YRC1913D: 6,3 m @ 4,52 g/t from 194,7 and 5,1 m @ 6,12 g/t from 305,9 m
o YRC1915D: 10,6 m @ 4,36 g/t from 271,4 m
o YRC1916D: 4 m @ 4,93 g/t Au from 214,4m, 5,2m @ 2,69 g/t Au from 221,7m, 4m @ 4,21 g/t Au from 235 m & 13,2 m @ 1,31 g/t Au from 242 m
o YRC1947D: 16,2m @ 5,58 g/t Au from 270 m
o YRC2019D: 15m @ 3,49 g/t Au from 268m including 7 m @ 4,91 g/t Au from 268 m
Perseus will use results to upgrade the CMA Underground Inferred Mineral Resource estimate to Indicated status, enabling a Pre-Feasibility Study (PFS) for an underground mining operation to be completed by late June 2022, including an initial Ore Reserve estimate.
Perseus's MD and CEO Jeff Quartermaine says: "With our three gold mines, Yaouré, Edikan and Sissingué, now producing gold at an annualised rate of over 500 000 ounces per year, Perseus's focus has turned to maintaining this level of production out to the end of the current decade and beyond.
"Our latest infill and step out drilling results from below Yaouré's CMA open pit confirm previous drill results that indicated that material quantities of additional Indicated Mineral Resources, capable of being economically mined using underground mining methods, may be delineated.
"We are aiming to complete a Preliminary Feasibility Study of this mining operation by the end of the June Quarter 2022, however, timing of the completion of this work will depend on the ultimate footprint size of the orebody as determined by the current drilling programme."