On the Cover: Weir Minerals has always looked at mining as a system of interdependent pieces of equipment – from mills, pumps and hoses, to valves, hydrocyclones and screens. Yet, pump efficiency and the endurance of hoses and valves are often overlooked when buying decisions are made often to the detriment of a mine's total cost per tonne. These components – which keep corrosive and abrasive fluids flowing – should be considered carefully to keep operational, maintenance and repair costs to a minimum.
Essentially, mining is a process where what matters most is the overall cost per tonne to deliver the product. Marnus Koorts, product manager pumps at Weir Minerals Africa, is of the view that the economic efficiency of the mining process hinges on the overall efficiency of all pieces of equipment deployed across the whole system.
Like any other piece of equipment in the plant, says Koorts, pumps, pipes and valves play a significant role in the overall efficiency of the mineral processing plant. Yet, many buying decisions don't pay particular attention to these crucial components of the plant. He reasons that each of the components involved in the handling of fluids that can be corrosive and abrasive at the same time, should meet specific build requirements to always keep maintenance and repair costs to a minimum.
The advent of smart attachments
One of the most apparent examples of forward momentum in the compact equipment industry is the development of smart excavator and loader attachments to increase accuracy, efficiency and attachment management.
To remain competitive in today's challenging economic environment, equipment owners are looking beyond the basics. They are looking at how their fleets of mini-excavators, skid steers, backhoe loaders, among other tool carriers, can squeeze more margins and volumes, and a strong attachment focus is gaining momentum. Attachments are key to equipment versatility and utilisation.
A key factor in succeeding with any fleet of equipment, especially compact, is getting the most out of your machines. Whether you have a mixture of mini-excavators, skid steer loaders, telehandlers or TLBs, implementing various tools and attachments can expand your assets from one-dimensional pieces of equipment into multipurpose and adaptable machines.
For many years, attachments have always been designed to enhance equipment fleets. While that likely won't change, advancing technology means that today's compact machine operators are benefitting from innovations that are taking accuracy, efficiency and attachment management to a whole new level. The advent of smart attachments is one of the key developments in that regard. Caterpillar and Bobcat are some of the leading names in that space.
Drivers and general outlook for the telehandler market in SA
Marketing company Verified Market Research has found that the global telehandler market was valued at over US$5,267-billion in 2018. This is projected to reach over US$7,715-billion by 2026, showing a CAGR of 4,96% over eight years. In this feature, Bobcat and Manitou SA discuss the drivers behind this market, the changing applications for telehandlers and new innovations to look out for, among others.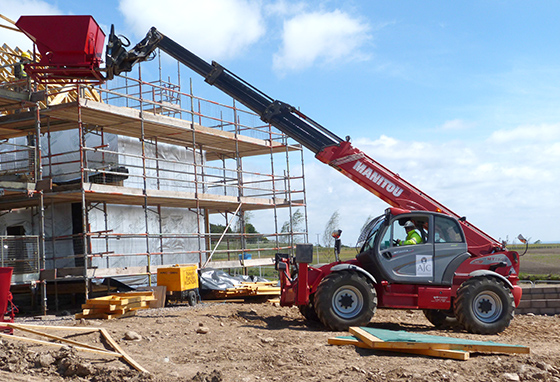 To Manitou SA MD Steve Ryder, the main drivers for the local heavy-duty telehandler industry from 9 t capacity upwards are to be found in the mining and quarrying industries. Smaller telehandlers are used in industries such as construction, agriculture, ports and aviation, where the material is lighter and the reach of the telehandler is important.
He says heavy materials handling is less likely to be required in construction, except in special heavy-duty applications where capacities exceeding 10 t are required.
On the other hand, Bobcat sales consultant Christo Swart singles out as market drivers for smaller telehandlers the construction and agriculture industries.
"Whether it's offloading bricks on the second floor of a newly built shopping centre or stacking feed bales on a dairy farm, both industries require heavy tonnage as well as decent reach," he says.