On the Cover:
With an extended range of new machines that come with a host of improved features for better efficiency, complemented by a relentless dealer expansion programme, new and existing SEM customers are guaranteed to start earning more out of their machines.
The value equipment segment has grown by leaps and bounds during the past decade. The trend within the global construction market is for customers wanting machinery that costs less and capable to undertake less rugged jobs where premium machines are not essential.
Barry Fang, business manager at Barloworld SEM, says there is definitely a big global shift towards low-spec, low-priced equipment, better known as value brands. In fact, available figures show that today value brands contribute about 80% of the global construction machine sales.
By leveraging Caterpillar product development processes and proven technology, SEM products offer initial affordability, high reliability, simplicity of use and maintenance and responsive support to help customers build a strong foundation for future success.
In South Africa and neighbouring SADC countries, since 2008, the SEM brand has established an installed base of close to 800 units. Given that for the past six to seven years, the brand has only pushed certain wheel loader models into the market, Fang is excited about prospects of growth in 2019, set to be driven by a product and dealership expansion programme.
The growth trajectory was set in motion in 2018 with Barloworld SEM selling about 250 units during the year, representing almost a third of the installed base since 2008. As a result, in the year-to-September 2018, the company saw a 40% growth of its business against the industry's downward trend.
Farming with speed and efficiency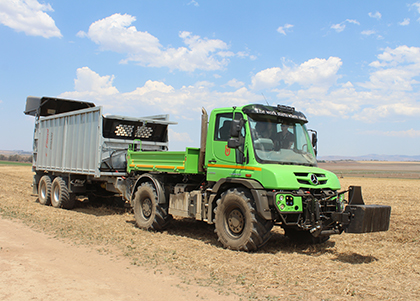 At a time when farmers are increasingly looking for ways to make every part of their farming activities as efficient as possible, Mercedes-Benz South Africa has introduced its new Unimog U529. It is a highly versatile special utility vehicle that can be applied across applications in all four seasons, allowing farmers to farm with speed and efficiency.
A major talking point is the vehicle's fuel efficiency compared with a conventional agricultural tractor when employed in applications calling for high speed or high power to weight ratio. However, Mario Alvelos, business development manager – Special Trucks at Mercedes-Benz South Africa, reiterates that the new Unimog U529 is not intended to replace frontline tractors working in primary tillage applications like ripping and discing, where large tyres (or tracks) and heavy iron is the only way to get work done.
"The Unimog U529 is not here to replace the tractor – there are just a couple of things that it can do better than a conventional tractor. It is a niche product for farming applications where power to weight ratio, speed and versatility are crucial," says Alvelos.
"The idea behind the Unimog U529 is to give the farmer or contractor a cost-effective solution for those tasks that don't require massive drawbar power, but faster operation than a conventional tractor, while using less fuel in the process. This positions the product perfectly for applications such as spraying, spreading, mowing, silage cutting, baling and transport style work such as combined chasing and manure spreading," says Alvelos.
German engineering for less
In line with its recent MoU with SANRAL, which affords small to medium construction contractors full access to its full suite of leading equipment brands, Wirtgen South Africa will this year launch a simplified version of its Hamm 3410 single-drum compactor to meet the needs of upcoming road contractors. While it retains the same German build quality, it will lose some of the expensive 'bells and whistles' to significantly lower its price.
This year will see Wirtgen South Africa rolling out a simplified version of its Hamm 3410 single-drum compactor. The Hamm 3410 forms part of the larger 3000 Series. Locally, Wirtgen South Africa brings in the 3410 (10-11 tonne class), the 3411 (11-12 t class) and the 3520 (20 t). The 3410 is Wirtgen's most common roller in South Africa because it falls in the 10-12 t class, which is the widely used roller range in South Africa and southern Africa at large. It is suited for most small to medium applications, and is also the most common rental unit in the country.
The simplified version of the Hamm 3410 compactor, which will be rolled out at the end of January this year, speaks directly to the needs of small to medium road contractors. Waylon Kukard, sales manager at Wirtgen South Africa, tells Capital Equipment News that the simplification of the model is driven by the company's commitment to capacitating upcoming local contractors with German built machines at affordable prices. The initiative is a true indicator of Wirtgen's commitment to small contractor development, which is in line with its Memorandum of Understanding (MoU) with the South African National Road Agency (SANRAL) signed last year on 19 October.
Wirtgen and SANRAL's MoU is aimed at giving CIDB-graded contractors access to road construction machinery which enables them to participate more meaningfully in major construction SANRAL projects. The agreement also affords small to medium construction contractors full access to the Wirtgen Group's full suite of leading equipment brands, as well as financing, training and logistics.
"We have had a look at the needs of this group of customers and we believe that the 3410 is the leading line as far as their compaction equipment needs are concerned," says Kukard. To give an idea, the roller market is currently averaging 16-18 units per month in southern Africa, which translates into about 200 rollers a year. Of that number, the 10-12 t range constitutes about 90% of the total sales.