Showcasing its dynamic ability to add value to any property development, the ICON Group is nearing completion with the groundwork for a residential project in Pretoria's suburbs.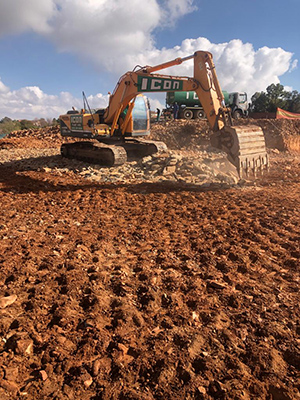 Making use of its world-class fleet of equipment, the company is adding to the sustainability, efficiency and quality of the project.
"We were approached by Helm Construction to complete the groundwork for a high-end residential property development where the topography was set to be challenge," explains Wayne Neary, ICON Group MD.
Sloping at about 45 degrees with a 45 m crossfall, the property's profile made the use of wheeled equipment incredibly difficult, not to mention risky. This means rollers and graders were not an option. The company was able to rise to the challenge, making use of excavators on tracks to complete the cut-to-fill groundwork. "We were pleased to be able to offer our services to help prepare the construction site expertly, ensuring the stability and success of the rest of the development."
Achieving the right ground level of a site is critical before construction begins, as poorly levelled areas can severely threaten the structural integrity of a building. "We stepped in to ensure that the groundwork was done right, working closely with other parties involved in the project, Nico Van Der Meulen Architects and GFC Consulting Civil & Structural Engineers," explains Neary.