Terex has launched its TRT 80 rough terrain crane, featuring the new Terex Operating System (TEOS) operating system and proportional boom mode. TEOS offers improved information flow and accessibility to increase operating efficiency. The proportional boom mode provides the crane operator with a choice of three boom extension modes to meet different lifting requirements.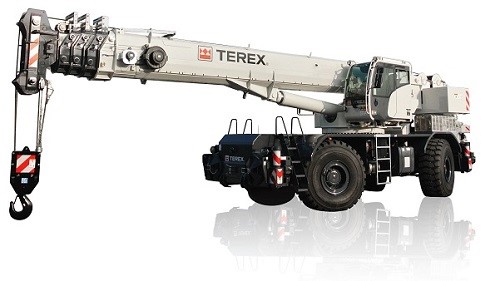 The crane offers 80 t lifting capacity, 42,1 m maximum boom length with three boom telescoping modes. The TRT 80 features an optional 2-section jib with an 8 m lattice main section and 7 m secondary boxed section, providing a total length of 15 m. Jibs are stowed on the crane's side and easily attached to the main boom.
The new user interface with wide 10'' full-colour touch screen display features self- explanatory and intuitive icons.
Based on extensive customer feedback, information access is quick and easy. The primary and most frequently used functions are immediately accessible, and intuitive controls ensure a short learning curve for new crane operators.
Error messages and warnings are within easy view for enhanced safety. A dedicated menu for diagnostics gives immediate feedback on crane, main component and sensor operating status.
Optional cameras are incorporated in the main display: the operator has full control of the crane from all points of view via a single display. Status of the radio remote control and T-Link platform options can also be seen on the main display. The optional T-Link telematics platform allows remote access of crane fleet operating data anytime, anywhere via the internet from your computer, smartphone or tablet.