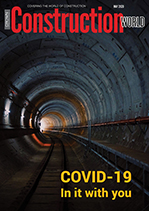 ON THE COVER: The construction industry has potential to create employment opportunities to cushion the impact of an anticipated increase in unemployment in the immediate aftermath of the nation-wide lockdown. This is according to a submission made by the Construction COVID-19 Rapid Response Task Team to motivate for a phased reactivation of the construction sector. The task team is a body representing major organisations in the sector including contractors, property developers, construction professionals, suppliers, and service providers.
Construction industry not short on innovation
The construction industry is not widely known for its innovation. Often when people talk of construction, they talk of project delays, budget overruns, on-site injuries, and quantity misjudgements. However, there have been some ground-breaking developments in construction technology which have the potential to revolutionise the South African construction industry. What it will take, however, is some industry education. By Daniel Petrov, MD, Peikko South Africa.
New focus on niche construction markets
Following a year of restructuring, M&D Construction Group is now strategically positioned to compete in niche and Southern African Development Community construction markets with higher barriers to entry.
"Whereas many other companies our size are either general building and roads contractors or have chosen to specialise in a specific field, we generate revenue from a broad spectrum of construction projects that rely on the diverse skills and capabilities of the entire group. This is a key differentiator and essentially means that we compete directly against four larger multi-disciplinary companies," Group Chief-Executive Officer, Rukesh Raghubir, says.
Zero is zero
Construction is a high risk industry where risk of injury is significantly higher than in most other industries. Concor, a major black-owned infrastructure and buildings services business has both a legal and ethical obligation to ensure that operations do not negatively impact employees and the environment. Construction World asked Craig Lawrence, Group HR & HSE Director at Concor how the company ensures legal and moral compliance across its many sites in the Southern African region.