ON THE COVER: M&D Construction Group (M&D) will continue on a positive growth path which can be accredited to, amongst other favorable factors, a strong balance sheet, low debt levels, agility, significant investment made into strategic markets and a focus on harnessing Fourth Industrial Revolution technologies to remain an industry disruptor.
These traits are complemented by the group's unwavering commitment to its core values which was demonstrated during the COVID-19 lockdown period by continuing to pay employees across board a significant portion of their salaries. They were also encouraged to use the time to improve their knowledge by taking online courses and spending quality time with their families.
Increasing dam's capacity
When engineering, design, and advisory company Aurecon was tasked to raise the Garden Route Dam which is the main supply for water-scarce George in the Western Cape, it devised a novel solution due to unique technical constraints. The 'duckbill' spillway developed, so-called due to its shape, not only allowed for the dam's existing storage capacity to be increased by 25%, it also significantly increased the discharge capacity of the spillway so as to boost the dam's safety by preventing overtopping.
A duckbill spillway is a type of non-linear spillway, similar to the more generally-known labyrinth spillway, explains Frank Denys, from the Water Engineering Unit at Aurecon. Aurecon is currently in the process of rebranding as Zutari, after officially announcing the separation of the African business from the Aurecon Group, effective from 1 January 2020.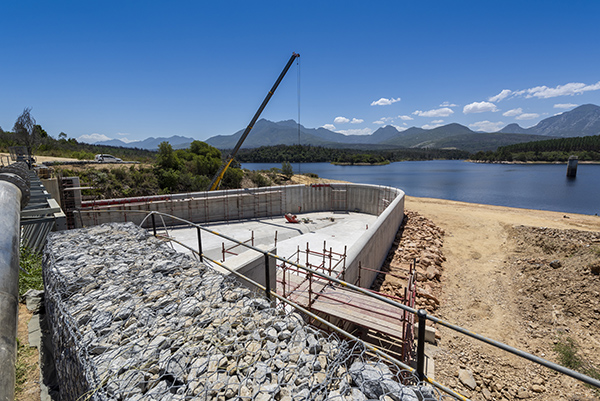 South Africa's extraordinary architectural legacy
Recently, the President of South Africa announced an unprecedented massive infrastructure spend as the country tries to shake off the debilitating effects of the Covid-19 pandemic. If we have learnt anything from our recent past, it is that we have the skills expertise and capacity to use this programme to make a massive difference. By Patrick McInerney and Christoph Malan.
In the Eurocentric world of modern architecture, African and South African architecture stands very much on the periphery, seldom published and never taken seriously. But, as is true of many creative fields, the architecture of the periphery is often where the most significant experimentation and breakthroughs occur. Credit: OMM design Workshop and Urban solutions - Constitutional Court.