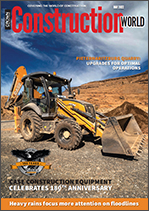 ON THE COVER: CASE Construction Equipment celebrates 180 years of serving construction businesses across the world with effective solutions that meet their requirements.
The history of CASE dates back to 1842, when inventor and entrepreneur Jerome Increase Case founded the Racine Threshing Machine Works in Illinois, USA. It was the beginning of an exciting journey of entrepreneurship, ingenuity and continuous development of practical solutions to the challenges of construction jobsites.
Heavy rains focus more attention on floodlines
SRK Consulting's Xanthe Adams, principal engineer, discusses the importance of floodline measures and why they should be enforced by municipalities.
The question of floodlines is in the spotlight after the serious flooding in parts of South Africa earlier this year was declared a national disaster by the National Disaster Management Centre (NDMC).
The heavy recent rains – mainly in the Eastern Cape and KwaZulu-Natal but also in the Free State and North West provinces – destroyed property and infrastructure, and led to many lives being lost. While the declaration allowed more direct intervention in recovery efforts by national government and organs of state, the NDMC noted that "these threatening conditions call for an all-of-society and government approach to promote risk reduction".
Are semigrants to Cape Town driving a property sector recovery?
Earlier this year Lighthouse Properties reported that 43% of homeowners who sell their properties in Gauteng, buy another property in a different province, and of this percentile, 36% are buying in Cape Town and the Western Cape. This semigration is believed to be underpinning Cape Town's resilient property market as skilled workers, entrepreneurs and big corporates migrate in favour of the metropole to find work, set up businesses and relocate their offices.