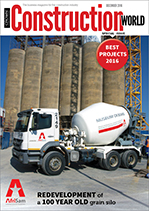 ON THE COVER: Accommodating specialised project requirements is one of the strengths that AfriSam brings to its customer partnerships. An excellent example is its ongoing involvement in the V&A Silo District project where specialised readymix concrete is being supplied to the historic Grain Silo Project.
WBHO is making steady progress on the redevelopment of the 100 year old Grain Silo which will house the Zeitz Museum of Contemporary Art Africa (Zeitz MOCAA). Once completed, it will be a flagship project for the building contractor, which was also involved in the prestigious Clock Tower, and later, the highly acclaimed No 1 Silo and No 2 Silo developments.
The 15th annual Construction World Best Projects Awards were held in Johannesburg on 9 November. These awards recognise excellence in the planning and execution of projects and has become a highlight on the construction industry's calendar.
Attended by representatives from the industry, it is gives peer recognition to winners. This issue of Construction World is a special Best Projects issue and ensures that entries and winners get even wider recognition.
Best Projects is only construction award that recognise excellence across the entire South African construction world, from civil engineering and building contractors, to specialist contractors and suppliers to professional services.

Winners (from left)
Civil engineering: Majuba Rail Project (Aveng-Grinaker-LTA); Building Contractors: Mall of Africa (WBHO/Group Five Joint Venture) and Kazane-Kazungula Villages Sanitation Project (Stefanutti Stocks).
This year, 58 entries were received in the seven categories of the competition. Judging took place in October. The three judges, Trueman Goba, Rob Newberry and Nico Maas, who represent ECSA, CIOB and Master Builders said the diverse entries bode well for the local construction industry. One category, 'Specialist contractors or suppliers' received 24 entries – this is an indication that contracting is increasingly outsourced by bigger companies.
This year's entries again demonstrated the ingenuity and innovative nature of construction in South Africa.
Winners (from left)
Specialist Contractors or Suppliers: 129 Rivonia Road (Franki Africa); Professional Services: MultiChoice Coty (GLH Architects) and PwC Tower (Arup) – joint winners; AfriSam Innovation Award for Sustainable Construction: the rehabilitation of Bruma Lake (Basil Read).