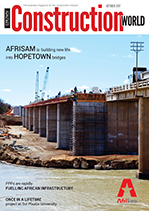 ON THE COVER: The passage of motorists and pedestrians over the bridges north of Hopetown is about to get safer. This is due to a SANRAL bridge widening project currently underway by contractors Botes & Kennedy Manyano with performance-based concrete mixes designed by AfriSam.
The R88-million project – which began in mid-2016 and is on track for completion by the end of February next year – is focused on the 312 metre Hopetown bridge) that crosses the Orange River just north of the town en route to Kimberley. There is also a much smaller and lower bridge being widened (B2483) which traverses the 30 metres over what used to be Langford Stream.
Sol Plaatje's library
The new library and student resource centre in the expanding Sol Plaatje University district is nearing completion well ahead of the commencement of the new academic year in 2018. Its opening will not only mark yet another major milestone for the institution of higher learning as a driver of this large development, but it will also be a momentous occasion for all members of the professional team involved in this project.

From left: Under construction: This building celebrates Kimberley's well-known diamond-mining past will be the central showpiece of the rapidly-expanding node that has also become a catalyst for the rejuvenation of the larger surrounding Kimberley central-business district.
Roads and bridges
SprayPave has acquired technology new to the African continent that aims to resolve the shortage of high grade bitumen for asphalt production. The company, a leading manufacturer and supplier of bitumen, modified binders and emulsions for road construction, has procured a multistage bitumen converter that changes bituminous products from one grade to another. This enables SprayPave to enhance the penetration grades of bitumen required to produce asphalt.
Thanks to Kaytech, South Africa's leading manufacturer of nonwoven geotextiles, the rural Moretele Local Municipality in North West Province was afforded massive savings on a subgrade stabilisation project.
It was a champagne popping event on 4 August when, two-and-half years since they first began extending progressively towards each other, the north and south decks of the one-kilometre ramp of the Mt Edgecombe Interchange were joined.
From left: Danashia Padyachee, SprayPave technical manager, tests bitumen produced by the converter; the first layer of TriAx laid over the bidim as subgrade stabilisation at Hammanskraal and connecting Mt Edgecombe.
Sustainable Construction World
Three projects are featured in the supplement: Located in the pristine Boschhoek Mountain Estate in Nylstroom, is House du Preez, an impressive three-bedroom, 400 m2 bushveld family holiday home, was built using timber frame and log profile cladding, not only to tread lightly on its surroundings, but to pay tribute to the earthy landscape it calls home.
Springs is a town steeped in history and is also the last town in the east of the Witwatersrand before entering Gauteng's platteland. It now boasts a new 50 000 m2 shopping centre, Springs Mall, which is located alongside ecologically sensitive wetlands. Springs Mall opened its doors in March 2017.
The retail centre was developed by Flanagan & Gerard and designed by MDS Architecture to specifically take its environment into account.
Western Cape Government's newest office building constructed with Corobrik face brick on track for 5-Star Green Star SA as-built rating. The Green Building in Bellville, Western Cape has been constructed using a number of effective design techniques as well as incorporating Corobrik's range of face and plaster bricks.
From left: House du Preez, Springs Mall and a green Western Cape Governmnet building.