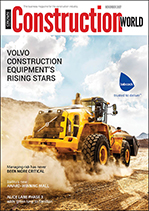 ON THE COVER: While every production needs a star, a reliable supporting cast is equally important, a fact that Babcock can attest to as their range of Volvo excavators and wheel loaders prove to be highly popular co-stars to Babcock's leading Volvo ADTs.
These powerful machines have the capacity to work across a range of industries, from small agricultural operations to larger industrial, forestry, mining and construction applications.
Babcock is the sole distributor of Volvo Construction Equipment in sub-Saharan Africa. David Vaughan, Managing Director for Babcock's Equipment business, attributes the increasing popularity of Volvo's excavators and wheel loaders to a number of factors, such as the machinery's versatility, and the comprehensive service and support network that Babcock offers.
South African architecture
Construction World spoke to Henning Rasmuss, one of the two founding partners of the Paragon Group, about the company's successes, its design philosophy, and why talking about a South African design style goes against the grain of architecture as transcending cultural and national differences.
The modern Paragon Group was established in October 1997 by Anthony Orelowitz and Henning Rasmuss, who were involved jointly in two projects in early 1997. Rasmuss then had a stint in Hong Kong for six months, with the concept of Paragon germinating upon his return to South Africa. The end result was a growing stream of larger commissions from early 2000 onwards for private unlisted property funds.
From left: Henning Rasmuss; Anthony Orelowitz and 140 West Street in Sandton.
The state of infrastucture
Darrin Green, AECOM's Managing Director for Civil Infrastructure in Africa and Michael Bouwmeester, AECOM's Highways and Bridges Lead for Africa recently spoke to Construction World about the status quo of infrastructure in South Africa and how the country is doing in the African and global context. Here they give a frank overview of the current status of the consulting and construction industries and outline what can potentially happen if current conditions continue.
Some of AECOM's recent bridge building design projects.
Admixture feature
The growing range of concrete admixtures from Chryso Southern Africa is changing the face of construction by broadening the options available for both designers and contractors, according to general manager: marketing and commercial sales Hannes Engelbrecht.
"With the use of admixtures, concrete structures can be made stronger, higher and thinner," says Engelbrecht. "An important aspect of these high strength concretes, however is their low water/binder ratios; this requires a very powerful polymer to disperse the cement and ensure mixing efficiency."
Construction World also spoke to Brett Larsen, COO of a.b.e. Construction Chemicals (a.b.e.) about how this company is building on the tradition of optimally providing innovative and quality products to both the retail and mainline construction markets.
a.b.e.'s offering is diverse. It has five product categories that it sells through three channels. The first component is retail, the second channel is construction and comprises contractors, subcontractors and specialised contractors. As these products need skills in terms of the mixing, preparation and application, a.b.e is heavily involved in training in these environments.
Exports is the third channel that is managed by a.b.e.'s business development. Although we call it a 'channel', it encompasses both retail and construction products.
We have seen a shift and the retail channel now accounts for 40% of a.b.e.'s business.
From left: Brett Larsen (middle) in front of The Centre of Excellence at the Chryso head office in Jet Park; the iconic Museum of European and Mediterranean Civilizations (MuCEM) in Marseille, France and Chryso recently acquired Moderne Methode – a global leader in stamped, polished and micro-topping concrete.