On the cover: Jet Demolition won its second consecutive award at the annual World Demolition Awards 2018 at the Aviva Stadium in Dublin on 8 November. The premium event of its kind, the awards are hosted by Demolition & Recycling International, published by the KHL Group, in conjunction with the European Demolition Association. The awards are accompanied by an industry-leading World Demolition Summit.
Jet Demolition's submission focused on the contract awarded to it by Eskom in 2017 for the demolition of a coal-fired boiler and ancillary equipment at Duvha Power Station in Mpumalanga, following an over-pressurisation event that resulted in irreparable damage to the structure.
This month's project profile
HHO was appointed in 2010 by the South African National Roads Agency Limited (SANRAL) to carry out design upgrades of the 54 km of road between Middelburg and Loskopdam (N11 – Section 10) in Mpumalanga.
The route traverses flat to rolling terrain with very shallow cuts and fills over most of its length. There are two passes where there are deep cuts and fills.
The road section through the Kranspoort Pass has a very high accident rate due to the sharp bends located at the bottom of the pass. These bends are preceded by a sustained downgrade, resulting in runaway trucks not being able to negotiate the bends.
Due to the extensive nature of the distress of the road pavement over this section of the route and the fact that the surfaced roadway was only 7 m wide, it was decided to carry out a rehabilitation of the road.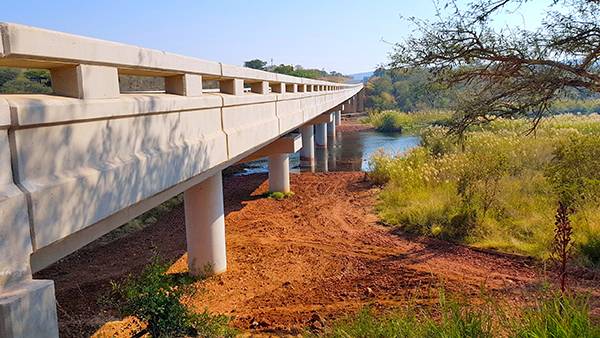 Warm asphalt
Krishna Naidoo, a Material & Pavement Specialist at the South African National Roads Agency SOC Limited (SANRAL) Eastern Region said the roads agency was working towards ensuring that its stand-alone asphalt supply plants produced only warm mix asphalt (WMA).
"In this way SANRAL will be leading the charge on worker safety as well as reducing its carbon foot-print in providing sustainable infrastructure. We are indeed more than roads," Naidoo said.
Warm mix asphalt is produced using temperatures up to 50 degrees Celsius lower than what is used for traditional hot mix asphalt. Less energy is needed to heat the warm mix asphalt, so it uses less fuel, decreasing the plant's carbon footprint.
It is a greener process that has less impact on the environment, with reduced hydrocarbon emissions and greenhouse gases. Due to its lower temperature, it is also safer for construction workers to use.