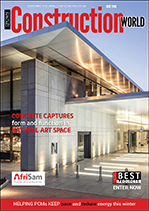 ON THE COVER: Precast concrete has helped lend an air of timelessness and minimalism to Norval Foundation, a modern pavilion for art set against the dramatic Constantiaberg Mountain and vineyard landscape in the Steenberg area of Cape Town.
The building is an expression of concrete, glass, steel and timber with concrete being the primary element in both the finish and structure. Exuding honesty and rawness through these selected materials, Norval Foundation chose precast readymix concrete to both control the quality and texture of the concrete as well as to speed up the build time. The concrete frame also gives the building large spans which are void of internal column support, to maximise gallery space.
Project focus
At 55 floors the Leonardo in Sandton will officially be the tallest building in Africa. The much anticipated final concrete pour on the Leonardo's sky deck has just been completed, bringing to an end the speculation as to its final height.
This speculation was largely due to the strategy adopted to have a flexible approach to the height of the building: it was dependent on sales. The original contract was for 32 floors with a first phase of parking and podium to the 5th floor, back in November of 2015. Over time this increased to 33, 40, 42, 47 and finally 55 floors, the maximum height in terms of its rights. Sales have gone well and only 16 units remain unsold.According to Patrick McInerney, CEO and Director of Co-Arc International, the architect's design of the building had to anticipate each of these potential heights and an adaptable way had to be found to deal with the attendant structural and servicing issues.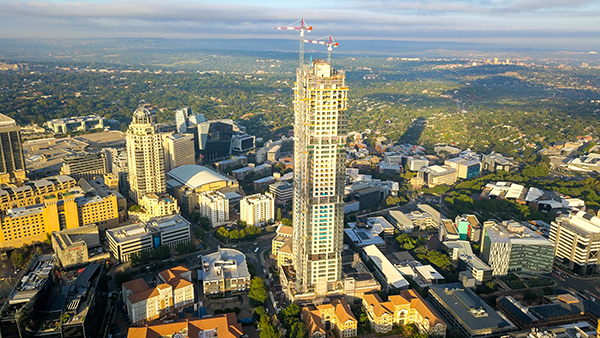 Roads & Bridges
Pilot Crushtec and Metso have introduced the first five-year, 10 000 hour extended warranty plan for all Metso products on their crushing, screening and materials handling equipment. This move is unprecedented in the mining and quarrying industry and highlights the absolute confidence Pilot Crushtec and Metso have in the quality and reliability of their products.