Local municipalities are increasingly being called upon to establish and manage their own landfill operations in an effort to eliminate long travel distances to landfills with associated exorbitant costs and road transport risks.
This has recently put ELB Equipment's latest range of dedicated Dressta landfill dozers under the spotlight as a ready-to-go solution for spreading and compacting waste on these smaller and medium-sized landfill sites. Their host of features designed especially for these "dirty" environments ensures that they are much easier to operate, service and maintain than traditional or modified standard dozers.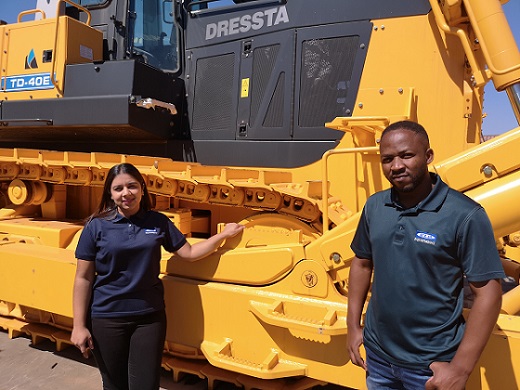 Tender coordinator for ELB Equipment, Nadia Nundkisun with tender sales manager Tshepo Mathekgane, beside a general purpose Dressta dozer.
In keeping with the company's aim of being easy to work with and understanding the challenges of government procurement requirements, its specially established Tenders Department is fielding a growing number of requests for the Dressta landfill dozers and working with municipalities to understand the challenges of effectively operating machines on these sites.
Fast uptake
Seeing the advantages of operating its own landfill, the local municipality in the Dundee region of Kwa Zulu Natal recently bought its first brand-new Dressta TD-15M LA that will be used instead of previously leased dozers and equipment. With assistance from ELB Equipment the technical team was easily able to see the advantages of the specially built machine and relied on the expertise of the company's Tender Department to meet all the requirements of the original tender document.
According to Tshepo Mathekgane, tender sales manager for ELB Equipment, the municipality had previously procured two powerful MST TLB's through COGTA and have been highly impressed with both the performance of the machines and the aftersales services delivered by ELB Equipment.
"This made the decision to shortlist the Dressta TD-15M LA dozer an easy one and having met all the requirements as per the tender the order was placed and the machine was delivered to the satisfied customer. They know that landfill operation is a tough job and outsourcing operations can be prohibitively expensive.
Custom designed
"Machines like this tailormade Dressta landfill machine and its bigger counterparts for larger landfills are a sensible alternative. Being specially designed for this type of operation, its running gear, tracks, filtration systems and fans, as well as service points are designed to work for prolonged periods of time with little intervention required from the operator of service teams.
"When maintenance needs to be carried out the service points are quick and easy to access and ensures the highest possible availability of the machines throughout the workday. The introduction of this machine and the assistance from our Tender Department will undoubtedly lead to many more DRESSTA machines being used on our landfills, which is good news for the municipalities and ratepayers in our towns and cities," says Tshepo.
Tender coordinator, Nadia Nundkisun, concurs adding that ELB Equipment's footprint extends throughout southern Africa and that mobile sales and service teams are easily able to access even the most remote towns in outlying areas. Advanced logistics systems ensure spares and parts are available quickly to ensure the continued operation of equipment at all times.
Tender assistance
Dealing with ELB Equipment's dedicated Tender Department makes it easy for municipalities to identify needs of the community and work with ELB Equipment to find the right solutions for the job. As municipalities become smarter and more service orientated, so the procurement of machines becomes critical and working with a team of experts dedicated to serving municipalities is preferable. Information is King and the services provided by the Tenders Department in these instances make sure that procurement officers have the right information at their disposal.
"Now is the time for local government municipalities to maintain their own landfills and take responsibility for waste produced in their own areas and our Dressta dozers and other equipment solutions can help make the transition easy and cost effective.
Machines built for landfill
Dressta dozers are designed and manufactured for the quality conscious markets in Europe, America, and the rest of the world. The machines have a reputation for toughness, cost efficiency and long-term reliability and durability.
In South Africa the brand is distributed through market leading multi franchise equipment supplier, ELB Equipment, which maintains a strictly best-of-breed business model incorporating the best manufacturers in in the world for each category of equipment including the likes of Sumitomo Excavators, MST TLB's, Hidromek Graders, Ammann Rollers and many more top brands.
This best-of-breed approach often extends further to specialised types of machines for specific purposes. The Dressta TD-15M LA is one such machine that is made for mid-sized landfills and typically used by local and regional municipalities.
As a result, the 15-tonne dozer sports a 142kW Cummins diesel engine with full power shift transmission, highly efficient torque converter, lubricated track systems and hydraulic lift, tilt and angle blade. Comfort and safety equipment includes a standard air conditioner, fire extinguisher, reverse hooter and fully enclosed Roll Over Protection (ROPS) cab.
Other unique landfill features include:
Reversible fan and radiator self-cleaning
Perforated engine cover
Turbine type air pre-cleaner
Transmission and engine crankcase guards for severe service
Semi-U blade with trash rack and increased blade capacity
Track shoes with clean-out holes
Front and rear striker bars
Special quick opening perforated rear enclosure
Steel debris deflector bars located below engine
Tank guard to protect fuel and hydraulics reservoirs