The South African National Roads Agency SOC Limited (SANRAL) was invited to the 2022 Transport Evolution Mozambique Forum and Showcase in Maputo last week.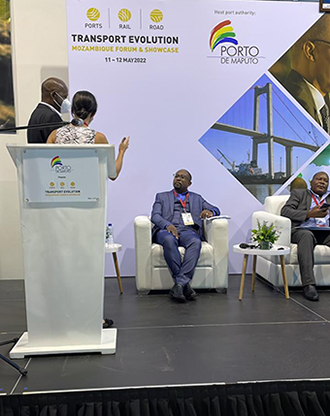 The event, hosted by Maputo Port Development Company from 10 to 12 May 2022, is the premier event of its kind aimed at uniting hundreds of port, rail and road professionals – all driving the growth and development of the region's transport sector to discuss future infrastructure and transport solutions for the country and neighbouring states.
According to Le-Ann Hare, Portfolio Director at DMG events South Africa, who organised the event, the forum provides a platform and an opportunity to hear and learn from key decision-makers from transport authorities and public and private sector stakeholders, as they highlight the key challenges facing the industry, such as reducing inefficiencies, achieving regional integration, building effective trade corridors, embracing digitalisation and improving security.
Progress Hlahla, Regional Manager at SANRAL Northern Region, said he was honoured to chair the panel discussion on 'Roads – Building robust road infrastructure in Mozambique and the region'.
"SANRAL appreciates the opportunity as it will go a long way in advancing knowledge and expertise of infrastructure development in the continent. This symbolises the ongoing strategic partnership between the roads agency and the rest of the continent," said Hlahla.
He said the event came at the right time when road infrastructure is critical and at the heart of economic development following the devastating impact of the COVID-19 pandemic and the recent floods which caused irreparable damage to road infrastructure across South Africa.
"This is quite a critical time for us in terms of advancing road infrastructure. We are aware of the potential of quality roads in unlocking economic activity, particularly for trans-border trading, and we welcome and fully support the efforts that will aid us on this road to economic recovery," he said.
Among those in attendance was Siphiwo Mxhosa, SANRAL Stakeholder Relations Manager, who also emphasised the importance of the conference in solidifying relations within the Southern African Development Community (SADC), promoting collaborations in engineering skills to advance infrastructure and tackling challenges such as road safety.
Other guests included Alex van Niekerk, CEO, TRAC, South Africa; Alexa-Rae, ESG Project Manager, South Africa; Barbara Mommen, Trade and Transport Corridor Consultant, Coalescence, South Africa; Mmutle Lentle, Technology & Business Strategist & Chair of ICT Sub-Committee, PMAESA, South Africa; and Nchaupe Maepa, COO, Cross-Border Road Transport Agency (CBRTA), South Africa.
Leading suppliers from across the globe also had the opportunity to showcase their latest future-proofed solutions for optimised port efficiency and sustainable rail and corridor expansion.
A follow up event is set to take place in South Africa later in the year. SANRAL will provide updates once all has been finalised.