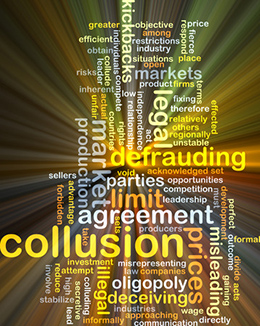 While collusive behaviour is illegal and puts additional strain on our already struggling economy, these statements indicate that it is not coming to an end any time soon – despite the prosecution of a number of high-profile cases. According to Patel, "collusive and corrupt practices in the private sector have their mirror image in the State", pointing to a pervasive problem across South African society.
Bonakele told delegates that the damaging effect of anti-competitive behaviour had been the subject of many a study, and the global consensus is that it needs to be stamped out. However, he questioned whether the Competition Commission's ongoing efforts to eradicate corruption were delivering the message. "We ought to be talking in general about whether the deterrence message is being delivered," he said.
A recent World Bank review on South Africa's competition policy showed that the dismantling of cartels in wheat, maize, poultry and pharmaceuticals had a correlation to lower prices for consumers. The fact that these goods make up more than 15% of the main products purchased by the poor makes the fact that the elimination of those cartels led to a reduction in the national poverty rate of 0.4% unsurprising.
In addition, South African cartels impose price premiums much higher than the world average, according to Bonakele. The world average is around 10%, but the starting point is around 15% locally – sometimes going as high as 100%.
In some cases, unfortunately, prices are not affected by cartels being discovered and fined. This is mainly as a result of the fact that many of South Africa's industries are oligopolies. Because of this, the Competition Commission is working on increasing the amount of sanctions it is allowed to levy.
Fines have steadily increased over the past 12 years, going from R10-million to R5-billion. However, the Competition Commission's fines structure is currently capped at 10% of annual turnover, leaving room for greater penalties. In addition, while cartel conduct was criminalised through recent amendments to the Competition Act, there have been no successful prosecutions.
This is because it's "a hugely complex exercise to investigate and prosecute such cases", Bonakele says. As a result, the Competition Commission is "in discussion" with the National Prosecuting Authority on how best it can proceed.
So while SAA was fined more than R100-million for anti-competitive behaviour, ArcelorMittalSA R1.5-billion, and WBHO, Murray & Roberts, Aveng and Stefanutti Stocks in excess of R300-million each – to name a few – it seems that South Africa's corporates are continuing their collusive behaviour. If 133 cartels have been reported in the past year, how many have not been discovered yet? The increased penalties called for by the Competition Commission might work as deterrents, but the fact that the current fine structure has made very little impact paints a grim picture of the ethics of corporate South Africa.
Image credit:
Copyright: kgtoh / 123RF Stock Photo