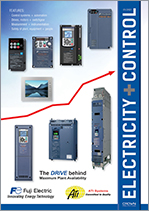 Well, we've made it this far! A milestone indeed worth celebrating, as the new year opens up to new challenges and fresh opportunities.
In this first issue of Electricity + Control for 2021, we look at a range of projects and applications across different industry sectors. Features include: Control systems + automation; Drives, motors + switchgear; Measurement + instrumentation; and Safety of plant, equipment + people. We also bring you our regular columns on Cybersecurity; work being done in Reskilling, upskilling + training; Engineering the future, which always presents a fresh perspective; and Write @ the back, where we aim to leave readers with something worth thinking about.
Two feature articles in this issue point to South Africa's innovation capabilities – one highlighting a world first for the country in an intricate high-speed seed packaging plant design, and the other the lead SA company Booyco Electronics has taken in developing PDS technologies for safety in mining and other industries.
In Control systems + automation we look at applications at utility level – in the benefits that digitalisation and distributed control systems can bring to water and wastewater management, as outlined by Joyce Moganedi of ABB Energy Industries in South Africa; and in the production plant – in the report from Omron Industrial on Micron Milling's development of a new high-speed seed packaging machine.
In Drives, motors + switchgear, we see how the efficiencies and savings of high performance drives benefit the intense process of manufacturing truck tyre retreads, and in agriculture support farmers in increasing productivity.
In Measurement + instrumentation R&C Instrumentation reviews the multiple applications of infrared thermometers in the steel industry and we present new test and measurement instruments coming onto the market.
And in Safety of plant, equipment + people, we report on the proximity detection technology that South African company Booyco Electronics has developed locally, leading the way in PDS systems to enable users to meet stricter safety protocols in mining and other heavy duty industries.
As we move forward through this new year, perhaps we can consider how we can make it a kinder year for all us – kinder in respect of enabling productivity and prosperity, in enabling businesses and industry to thrive – and kinder in respect of all people, and our planet, day by day.