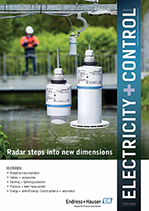 Goodday
Every day there is another reminder that things are not as they should be in this wonderful country. For example, there is a worrying sentence in the analytical instrumentation 'Creaming profits….' article which reads: Milk will soon be added to South Africa's list of costly staple foods'. How much more costly can staple foods become? How will people survive if they cannot afford the basics for survival? And what can be done to turn the situation around?
One of the main reasons for the price hike in essentials is the drought. There is a debate as to whether South Africa ranks at 30 or 39 in the category of 'driest countries in the world'… (as if the number is important)! The more 'privileged' among us become aware of the drought – the most extreme in many years – only when we are ordered not to water our gardens and fill our swimming pools. In the rural areas, however, the impact on people and animal life, and land, is immense.
In the 1960s (yes, some of us were even around then) the rain came down in buckets after a national day of prayer for rain was declared…and held.
Perhaps it's time to do the same.
Let it rain!
Wendy Izgorsek
Editor, Electricity+Control
Tel. +27 (011) 622 4770
Articles in the October 2016 issue of Electricity+Control
Analytical instrumentation
Creaming profits with instrumentation for the dairy industry
Natlee Chetty, Endress+Hauser
There is a real need for sophisticated instrumentation, and highly accurate, reliable hygienic measurements.
Factors that influence cable protection
Morgan Havire, AMNS Consulting Engineers
The first in a series of articles on cable protection, the author gives a few basics as an introduction.
Earthing + lightning protection
UPS systems: Threats, maintenance, management and winning designs
Jack Ward, Powermode
Lightning, can do serious damage to a UPS system and to the highly sensitive computer systems it is tasked to protect.
Brief guide to the selection of lightning and surge protection
Tony Rayner, Phoenix Contact South Africa
The author simplifies surge and lightning protection dynamics, making it easier for prospective users to make an informed choice when purchasing protection systems.
Sports ground lightning protection from touch and step potentials
Kirk Risch, DEHN AFRICA
Effective lightning protection should be installed for playing fields and sports grounds, as well as for the nearby spectator galleries.
Pressure + level measurement
Flotation level measurement techniques
Richard Rule, eDART Slurry Valves
The more common level measurement options available in the flotation plant market today and the pros and cons associated with each one.
Energy + enviroFiciency: Control systems + automation
Drilling holes with advanced PC-based control technology
Stefan Ziegler, Beckhoff
Lisocore lightweight construction material, lightweight solutions is a pioneer both in terms of the end product and the manufacturing equipment that makes it.
Push-In Plus reduces panel-wiring time by 60%
Victor Marques, Omron
The concept of Push-In Cable connection to a new level by developing a patent-pending system called Push-In Plus technology.