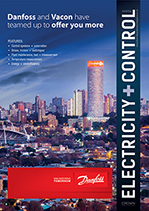 Greetings from the Electricity+Control team
When a magazine 'goes to print' I feel as though I've completed a short, intense course covering some of the most important topics in this, our industrial, automated, digital and connected world. This month, the feeling is no different.
The 'living lab' in the first article describes an energy monitoring system which results in reduced energy usage and a positive impact on the lifestyles of residents. This is surely something we should all consider, at home and at work. It makes so much sense.
It is clear that knowledge and skill will prevent negative consequences when deciding on remote access solutions. Please watch Face Value as this author discusses the topic in more detail with Crown Publications editor, Munesu Shoko.
The article in the drives feature alerts us to a pending patent... 'Limiter Power Management System'. We 'patently' await the good news and our readers will be the first to know when it happens.
Electricity+Control is delighted to have Peter Middleton as a contributor to its content... In Conversation is his spot ... in this issue, the Connected Enterprise is in the spotlight.
Diesel genset technology, non-contact temperature measurement, LED technology, and retrofilling transformers... all contribute to the valuable information in Electricity+Control, November 2016.
Did I mention that it is our 30th anniversary?
Have a great November.
Wendy Izgorsek
Editor, Electricity+Control
Tel. +27 (0) 11 622 4770
o Control systems + automation
Grundfos 'Living Lab' ... Sven Goldstein, Beckhoff
Beckhoff's state-of-the-art energy automation linked to Microsoft's Azure cloud makes it possible to identify even the smallest energy savings potential in a 'living lab' – 'Grundfos Kollegiet' in Århus, Denmark.
Remote Access Solutions: How, when and which Clouds? ... Doron Kowensky, H3iSquared
The author describes the differences between Cloud-based remote access and direct remote access... and he expresses his concerns about recent Cloud breaches when making use of third-party Cloud-based solutions.
o Drives, motors + switchgear
Electric Induction Motors: Power Management System ... Henry du Preez, consultant
A motor power management system (Limiter Power Management System) which optimises the energy consumption and lifespan of electric induction motors is pending patent.
o Plant maintenance, test + measurement
In Conversation ... Crown Publications' editor, Peter Middleton, talks to Barry Elliott, Managing Director Sub-Sahara, Rockwell Automation
This interesting discussion covers automation, equipment efficiency and the Connected Enterprise.
Diesel Genset Technology for Clean Power Development in Africa ... Nalen Alwar, Cummins
Manufacturers of diesel gensets are making steady technological gains that reduce capital intensity and emission levels, and enhance power output and efficiency.
o Temperature measurement
Non-contact Temperature Measurement in the Glass Industry ... Information provided by OPTRIS
Infrared cameras that can accurately measure surface temperatures of moving measurement objects using minimal apertures are significant in the glass industry.
o Energy + enviroFiciency
Increased Freedom in Lighting Design ... Henk Rotman, Philips Lighting
We are still learning to use the benefits of this LED technology and translating it into value added offerings.
Retrofilling Transformers: A Financial Perspective ... John Luksich and Kevin J Rapp, Cargill Inc
From the oldest to the newest (and including those purchased in the future), nearly all non-free breathing, non-silicone oil filled transformers are potentially good candidates for (retro) filling with Envirotemp FR3 fluid