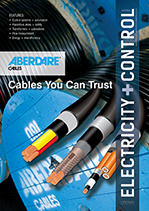 From the editor: 'Hectic' is an apt word to describe 2016! But then again, the same word was used to describe 2015, 2014 and all the others. Technology should be making our lives easier … but it isn't. I want in my festive stocking an app that will make 2017 different from previous years and with its help, if I'm still around, I hope I'll be describing 2017 as having been 'chilled' … in every sense.
Our industry is so unpredictable and dynamic. 2017 is set to start with a change of face (again) at the helm of Eskom; and we'll be vigorously debating the Draft Integrated Resource Plan (IRP) and Integrated Energy Plan (IEP) documents … I emphasise 'vigorously' – as these will shape the energy future of this country.
I wish you all a safe, fun-filled and happy holiday season.
Cheers – until we 'chill' in 2017!
Wendy Izgorsek
Editor, Electricity+Control
+27 (0) 11 622 4770
Control systems + automation
Packaging at 500 Cycles Per Minute
Frank Würthner, Beckhoff Automation
Bauer Steuerungstechnik counts on PC-based control from Beckhoff for its latest flow pack machine to ensure fast, accurate and highly flexible packaging processes
Internet of Things: Real Situation Revealed
Dr Peter Harrop, IDTechEx
Researched in late 2016 with ongoing updates, the new IDTechEx report on the Internet of Things is intended to assist investors, participants and intending participants and users.
Hydrocarbon Dew Point – Critical Considerations for Natural Gas Turbine Installations: Part 1
Jack C Herring, Michell Instruments, Inc
Identifying the major factors that contribute to best practices for measuring the Hydrocarbon Dew Point (HCDP) of the natural gas fuel supply.
Raising the Benchmark for Multi-gas and VOC Detection
Suraksha Mohun, MSA Africa
Advances in electronics and software development have resulted in the latest generation of portable multi-gas detectors with increased functionality and sensitivity
Transformers + substations
Transformer Core Market in Africa and Asia-Pacific Regions: Promising Future
Sidharth Sawant, Allied Market Research
A market report published by Allied Market Research offers useful insights related to the transformer core market and highlights the market share, size and growth.
In Conversation … Crown Publications editor, Peter Middleton, talks to Warwick Jackson about the company's role in a project associated with the SKA radio telescope. (The company is the Efficient Engineering Group)
Importance of Mass Flow Measurement and the Relevance of Coriolis Technology
Ashley Buck, Bronkhorst UK
Mass Flow Measurement is important within process industries and Coriolis Flow Meters and Controllers have many strengths.
Preserving your Standby Generator Investment
Dave Warren, Master Power Technologies
A few tips worth considering to ensure your generator is geared to deliver optimal service over the long term.