Nivek Industires, a family owned, Australian manufacturing and fabrication company, will be at bauma CONEXPO Africa 2021. The company prides itself on quality workmanship and building products that are durable and easily maintainable so they can withstand the rigors of operating in a mining environment.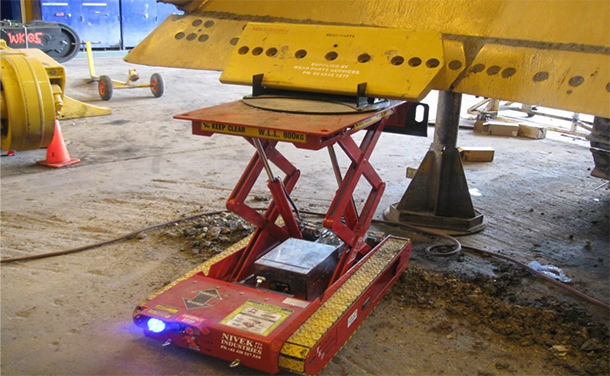 Nivek Industries is best known for its Tracked Elevating Device (TED), a remote controlled, battery powered, all-terrain, multi-purpose belly plate jack. Designed and developed by Nivek Industries, TED is now in operation across Australia.
The Nivek Industries TED was originally manufactured to assist in the removal of belly guards from heavy mining bulldozers. Being remotely operated, TED removes maintenance staff from the danger zone during the notoriously hazardous lifting and lowering stages of belly plate removal, significantly reducing the risk of suspended load hazards. This increase in safety has resulted in TED becoming an essential machine in several major mining company workshops across Australia.
With a safe lifting capacity of 800 kg and low profile of 315 mm, TED is able manoeuvre under the majority of heavy mining vehicles and assist in the removal of all but the heaviest of components. TED has a standard reaching height of 1 170 mm, which can reach the majority of components under heavy mining vehicles. TED also has a built-in rotating table to assist in alignment of bolt holes when fitting components back onto mining vehicles.
Driven by a hydraulic skid steer track system, TED will continue to function on even the arduous of surfaces. This all-terrain capability allows TED to be utilised at the site of vehicle breakdown, wherever that may be. TED is also fitted with a blade attachment, allowing it to create its own flat operating space for safer operation.