Bobcat used bauma 2019 to launch its new Remote Control System for its compact loaders. This system allows operators to leave their seat in the cab and control their Bobcat loader remotely.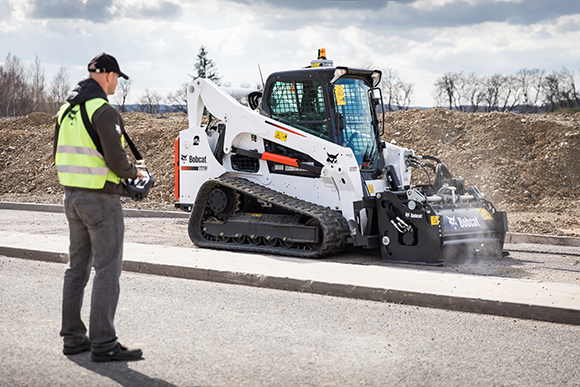 It is compatible with the Bobcat skid-steer, compact track and all wheel steer loader models equipped with the company's Selectable Joystick Controls. Bobcat claims to be the first manufacturer to introduce a Remote Control System as original 'Plug&Play' equipment, rather than offering it as an add-on development from a third party. The new system will be commercially available later this year.
Remote control solutions have proved their qualities and abilities to save lives in the toughest environments all around the world by providing service during disasters like floods, forest fires, mud or rock slides and in other places where operators can be subjected to dangerous situations.
"We first presented our remote control prototype at Bobcat Demo Days in October 2017 with excellent feedback from our customers, then subjected it to further improvements, testing and licensing, before finally introducing it as an easy 'Plug&Play' solution for existing machines at bauma 2019 for commercial launch," says Jiri Karmazin, Loaders Product Manager Doosan Bobcat EMEA.
"The remote control system can be used in many applications with the focus on limitless visibility, the ability to communicate with the surroundings without the need to be present in the cab, comfort enhancement for applications with noise, vibration and harshness or even in dangerous areas. This was the voice of our customers and the issues we observed on most jobsites," adds Karmazin.
The new plug and play system comprises an easily portable and industrial radio remote control solution that can be mounted and dismounted on machines in a matter of minutes, leaving behind the standard machine in its original form. Being able to control the loader from outside the cab offers the operator a completely new and alternative opportunity in terms of visibility and communication.
Not only does it provide direct sight of the progress of work with a range of attachments, further increasing the versatility of the loader and a comprehensive range of attachments including angle brooms, augers, breakers, buckets, snow blowers or trenchers and wheelsaws where the operator specifically needs to drive backwards with the loader and this solution offers perfect visibility of the project. It also allows operators to talk face-to-face with project partners and manage the surroundings (verbally or non-verbally) at the same time.