South Africa boasts one of the best solar resources in the world and is a country at the forefront of the solar revolution. SolarReserve entered the South Africa renewable energy market in 2010 to begin developing a pipeline of solar power projects to be ready for the South Africa Department of Energy's Renewable Energy Independent Power Project Procurement Programme (REIPPPP), which was announced in 2011.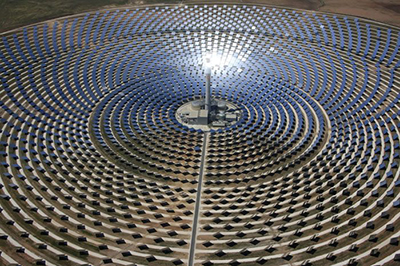 The first of its kind in Africa, the Redstone Solar Thermal Power Project features SolarReserve's world-leading molten salt energy storage technology in a tower configuration with the capability to support South Africa's demand for energy when it's needed most - day and night. The 100 MW project with 12 hours of full-load energy storage will be able to reliably deliver a stable electricity supply to more than 200,000 South African homes during peak demand periods, even well after the sun has set. Fuelled completely by the sun, with no back up fuel required, the project also features dry cooling of the power generation cycle as an important element to minimise water use.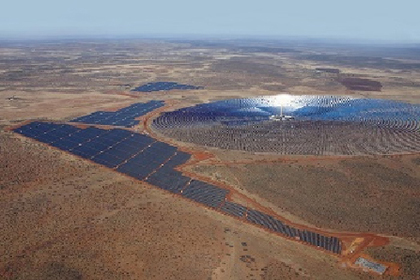 World's first CSP and PV Solar Park.
The Redstone project will generate more than 480,000 megawatt-hours per year. This annual output is more than twice that of other technologies per MW of capacity, such as photovoltaics (PV) or direct steam solar thermal.
The Redstone Solar Thermal Power Project will be located in Postmasburg, near Kimberley in the Northern Cape Province, adjacent to the 75 MW Lesedi and 96 MW Jasper photovoltaic (PV) solar power projects successfully developed by SolarReserve and its investment partners. Together, the three projects comprise the world's first combined CSP and PV solar park with a total of 271 MW of generating capacity.
Redstone Solar Thermal Power Project Northern Cape, South Africa.
Under the REIPPPP process, the projects ensure robust local participation and technology transfer, and are structured to exceed the minimum REIPPPP requirements for BBBEE (Broad-Based Black Economic Empowerment) equality on job creation, local content, ownership, management, procurement, and enterprise development. All of the projects, as mandated under the REIPPPP, set aside a percentage of total project revenues for enterprise and socioeconomic development which will be invested for the benefit of local communities.
Project Overview
Location: Postmasburg, Northern Cape Province, South Africa

Technology: SolarReserve's proprietary CSP tower technology with Molten Salt Thermal Energy Storage

Size: 100 MW facility output

Storage: 12 hours of full load storage

Electricity Production: 480,000 MW-hours annually – twice the generation of an equivalent sized photovoltaic (PV) project

Investment Partners: SolarReserve and ACWA Power

Homes Powered: more than 200,000 homes during peak demand

Dry cooling: Significantly reduces the use of water

Project Status: Awarded preferred bidder status by the South Africa Department of Energy
Key Project Benefits
No requirement for natural gas or oil back up – completely emissions free

Supports South Africa's renewable energy programme with the most advanced solar technology, delivering clean energy, day and night

Energy storage capabilities provide non-intermittent electricity supply to meet peak demand requirements

Supports South Africa's growing demand for generation capacity stimulated through economic growth

Significantly reduces the use of water for cooling by using an efficient, low-water dry cooling system

Long term Enterprise Development and Socio-Economic Development investments
Economic Benefits
Financing: Equity investment and debt provided by local and international lending institutions including DFIs, with over 26% of Black Economic Empowerment (BEE) shareholding

Tax Revenues: Project forecasted to contribute more than R7 billion in income tax to the fiscus over the first 20 years of operation

Operating Expenses: During the more than 30-year operating life, the project will expend over R150 million per year in salaries and other operating costs, including land, insurance, and maintenance activities, much of this spent in the region

Job Creation: More than 4,000 jobs during the construction phase including craft workers on site as well as jobs related to equipment supply, manufacturing, engineering, transportation and other services; during operations there will be over 80 full-time, permanent jobs

Localisation: A significant proportion of procurement and labour will be derived from South Africa, growing from the experience and supply chains developed through construction of the two PV projects at the same location

Preferential Procurement: During construction, in excess of 43% of capital costs will be spent on South African content

Enterprise and Socio-Economic Development: The project commits to a 2.5% community trust, further supporting the local communities, and will expend over 700 million Rand on small to medium enterprise and socio-economic projects over the first 20-years of operation
Enquiries: Visit www.solarreserve.com