Being able to identify cables quickly can be critical in data centres and other industrial settings. Brady Corporation's new rotating label enables users to rotate the label so that it can be read from any angle. This facilitates faster troubleshooting.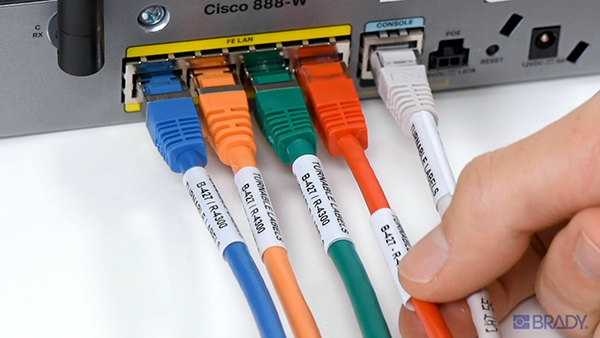 Faster troubleshooting
With Brady's new B-427 self-laminating Rotating Label, the label can be rotated around a cable due to the non-adhesive printable zone and a translucent, self-adhesive laminate that is wrapped around the cable. When it comes to troubleshooting, this makes cable identification easier and quicker and therefore helps to avoid time loss or human error, like unplugging the wrong cable.
Printable on-site
The new rotating label is part of Brady's reliable, industrial grade labels for cables and components that stay attached and remain legible long after they are applied. They can be designed easily with Brady Workstation apps, which provide for inclusion of text, serial number, barcode, QR code or other data, before printing on a Brady printer. Compatible printers include the BBP12, BBP33, BradyPrinter i5100, BradyPrinter i7100, BradyPrinter M611, BMP61 and BMP71.
Customer support
In addition to reliable labels, label design apps and printers, Brady can provide customised identification solutions through on-site consultation. Brady identification solutions are always available locally through an extensive global distributor network. Once solutions are in place, customer and technical services are available to answer any questions a client may have.
For more information contact BRADY South Africa, Tel: +27 (0) 11 704 3295, or email: info_africa@bradycorp.com