A smart city is an urban development vision to integrate information and communication technology (ICT), machine to machine (M2M) automation and the Internet of Things (IoT) in a secure fashion in order to manage a city's assets. It is therefore a practical city that uses information collected from every sphere of the city, analyses it and performs all functions more efficiently than it did before. This makes for a safer, more efficient and enjoyable living and working environment for inhabitants.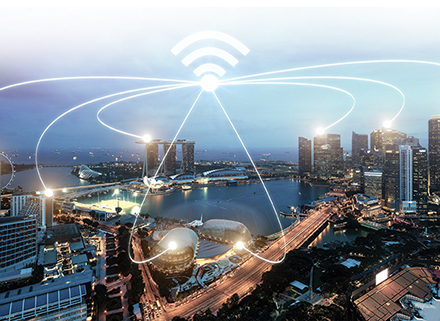 The institutions and services that make up smart cities are public transport; water; sanitation; urban mobility; citizen participation; IT connectivity; power supply; solid waste management and E-governance – and lighting and light management are needed in all of these.
Lighting design for transport
In a smart city (which, according to Caragliu and Nijkamp 2009, is defined as 'smart' when investments in human and social capital and traditional and modern communication infrastructure fuel sustainable economic development and a high quality of life), a well-run public transport system and well managed transport infrastructure in general are essential.
Good road lighting is vital for the growth and convenience of smart cities and to ensure that citizens are safe. Road lighting, however, has entered the phase where it has become more than simply road illumination. Using smart luminaires integrated into control systems, the streets/roads become 'information highways' monitoring the installation itself as well as the use of the road. This allows municipalities to efficiently save electricity and the environment whilst providing knowledge and useable data to plan and make these areas more efficient for all users. Examples include, street lights that switch on as you walk/drive along a pavement or road and off again after you have left the vicinity of these smart luminaires; traffic lights that adjust to accommodate traffic flow; accident alerts; indications for parking spaces and monitoring of pollution levels – the list is in exhaustive. Intelligent lighting and lighting design is needed for BRT routes, feeder routes into and out of smart cities and all streets within the smart cities.
Currently, there are standards (SANS10098-1/2 –Lighting of public thoroughfares/Lighting of certain specific areas of streets and highways) to ensure lighting installed in these areas offers safety for motorists and pedestrians, but the approach to smart city lighting design will be very different as the vision becomes realised. It will include sensors, cameras, charge points, PA systems and WiFi/LiFi.
Lighting design that complies with standards is evolving within the dynamic environment to achieve much more than what the standards require. With the increased progression towards smart cities and their inherent additional functionality, the lighting designer will be designing for much more than lighting only. Luminaires are becoming smart and control is essential. The road lighting infrastructure will be the backbone for enabling smart cities.
We tend to think of smart cities as a thing of the future but they are here now, and it is vital that the public sector becomes more efficient. IoT and other integrating technologies are essential to enable smart city growth. Lighting is the great enabler and lighting designers will fulfil roles that require much more than simply lighting, at least in the road and urban environment. Road and urban lighting will be the backbone of the development of smart cities.
This article is an abbreviated version of a paper presented by Retief Coetzer, BEKA Schréder, at the 2017 IESSA Congress held in Cape Town from 15 to 17 May. He was the winner of the Junior Professional Best Paper Award 2017 and the full article can be read at https://user-54716422671.cld.bz/Lighting-in-Design-May-June-2017/6