Guangzhou in China, a sprawling port city northwest of Hong Kong on the Pearl River, is the capital and most populous city of the province of Guangdong. One of the most populated and fastest growing cities in the world, it is home to a population of over 14 million.
The 2000 km Pearl River flows through the city, which is well-known for its colourful waterfront and high-rise buildings. When Signify, formerly Philips Lighting, was commissioned to illuminate 24 buildings in Guangzhou's central business district on the river, colour was an important factor in the lighting design.
At night, the lights from the buildings are reflected onto the river and form dramatic water colour images. In addition to emphasising architectural features, the connected LED lighting creates dynamic light effects and images to be projected onto the buildings, including blossoming flowers.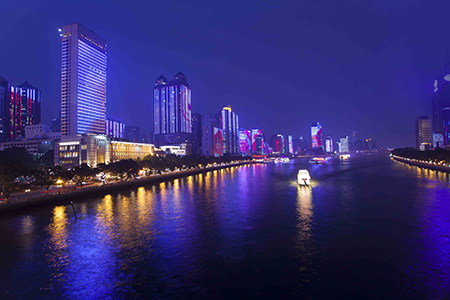 The buildings use Philips ActiveSite to monitor and control the 200 000 Philips Color Kinetics light points on the buildings. The newly illuminated buildings include the Hotel Landmark Canton, Jiangwan Business Centre, Tianzi Plaza, and the Guangdong Navigation Building. Compared to conventional lighting, the new LED lighting system can save up to 75% on electricity as well as reduce operational and maintenance costs, according to Signify.
"Connected architectural lighting unifies technology and art, unlocking new possibilities for urban lighting projects and designers. By illuminating the city's riverside buildings, a dazzling urban art form has risen to enthral citizens and visitors alike. The beautiful lighting is also highly energy efficient and illustrates our leadership in connected lighting and lighting for the Internet of Things," says Jacques Letzelter, Global business Leader, Public Segment, at Signify.