Anglo American Platinum recently brought two Kom-Vision-equipped Komatsu 930E earthmoving vehicles into production at the Mogalakwena Complex near Mokopane in South Africa's Limpopo Province. The Kom-Vision technology is a significant step towards improving safety at the mine as it gives the truck operator a 360-degree bird's eye view and significantly reduces the risks associated with a man-machine interface.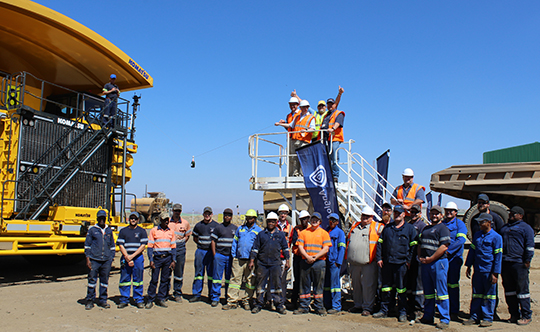 The Mogalakwena mine has taken delivery of two Kom-Vision-equipped Komatsu 930E earthmoving vehicles.
The new system has an additional eight radars – over and above the current standard of front and rear radars – and six cameras that provide zero-metre visibility of the truck's footprint. "This technology sets a new benchmark," says Mogalakwena's General Manager, Richard Cox. "It improves our ability to integrate into future collision avoidance systems. In line with our strategy of FutureSmart Mining™, it will generate close-to-real-time health and performance data that will support us in optimising our operations."
Comments Chris Griffith, CEO of Anglo American Platinum: "Investing in this technology is a major step in increasing safety levels at our mines. We remain committed to our objective of eliminating fatalities with a zero-harm mindset. We put safety first and believe that every employee has the right to return home unharmed every day. And we recognise that although we have made significant progress in improving safety over the years, there is still much to do. This technology will eliminate a number of risks and we look forward to benefitting from the improved safety and operational features of these trucks."
According to Anglo American Platinum, the case for innovation in mining remains highly compelling. To deliver the step-changes required to create a truly modern, safe and productive industry on a sustainable basis that society demands and that customers expect, the industry must continue to evolve. Therefore, Anglo American continues to invest time working through how innovation can help the industry address its major challenges. Through FutureSmart Mining™, the company has successfully drawn on the expertise of diverse stakeholders, including employees, partners in academia and civil society, peers in the mining and parallel industries.
The company continues to focus on driving a more sustainable approach to mining through cutting-edge mining software and other technology-led innovations. Production manager Judd Barlow said: "We are proud to partner with Komatsu as this technology allows us to maximise capacity and safely deliver on our promises."
The new trucks will be the first earthmoving vehicles at Mogalakwena to fully integrate a range of business improvement initiatives including: collision avoidance ready technology; a tyre monitoring system; a safety standard fuel saving card and extended fuel tank; an optimised payload system for payload monitoring; an Ansul foam fire protection system which combines dry powder with foam; and a lightweight bowl.
Photo courtesy of Anglo American Platinum.