Spazio Lighting was fortunate enough to attend the Hong Kong Trade Development Council's (HKTDC) Hong Kong International Lighting Fair Autumn 2019. Attending this fair gave the company the opportunity to meet with current and potential suppliers as well as to view the latest trends in lighting technology and design, in order to introduce fresh designs and groundbreaking technologies to the South African market. This year's fair certainly did not disappoint, with an array of interesting new designs and technologies on display.
There were a number of new lighting trends that really stood out. Whether for decorative pendants and table lamps, interior spots or even exterior fittings, black and copper are two colours Spazio cannot get enough of. Plain black fittings or black fittings with accents of copper were very popular, while copper on its own also makes a really bold statement. You are already seeing a lot of this trend in South Africa, but expect to see a lot more in the next few seasons.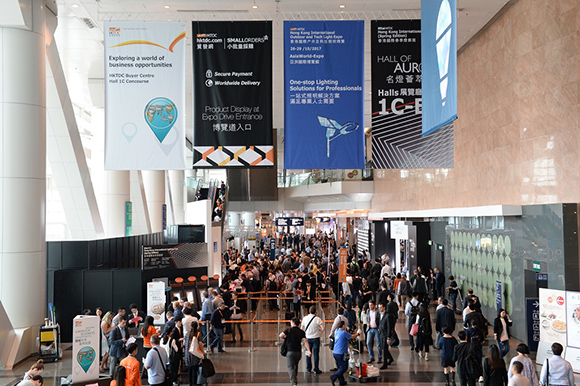 Home automation and smart lighting are still gaining popularity and have seen some technical improvements. These revolutionary lighting technologies are made to align with the new smart lifestyle of the modern user. You will soon be able to control your home, including your lighting, using one app that is probably already preloaded on your iOS or Android smart device. From switching your lights on and off, even when you are not at home, to dimming the lights or changing the colour temperature, the possibilities are endless. Be on the lookout for these new technologies to be introduced into Spazio's range in the near future. Light fittings with classic designs have become very limited. All the light fittings, be they decorative or technical, have very modern and minimalistic designs. Uncomplicated designs with sleek lines are definitely the current trend and Spazio does not see this changing any time soon. You can also expect to see more glass elements, especially in decorative, but also technical light fittings.
Finally, these modern designs are also allowing for the light sources to be more recessed or sunken into the fitting in order to produce light beams that have low glare to create better ambience. Be on the lookout for these trends which will be introduced into Spazio's wide range of products soon.
Enquiries: www.spazio.co.za