The BMP™41 Label printer is a rugged, portable solution that gives you the versatility to create die-cut or continuous labels up to 25 mm wide, anywhere, anytime! Whether you are faced with your jobs for the day or one-off tasks, the BMP41 printer is the one device for all your labelling jobs – from wire marking and general ID to multi-area labels such as patch panel, terminal block and more.
This printer comes with a free Brady WorkStation Basic Design Software Suite, enabling you to immediately start designing professional labels.
Watch the BMP41 Label Printer in Action: https://youtu.be/uiOWWCHvOGs
Features and Benefits:
A new industrial look and feel
Includes a large, clear window to show installed cartridge
Features textured rubber overmolding for better grip while handling
Enhanced exterior coloring for jobsite visibility
Withstands 1.2 m drops for added durability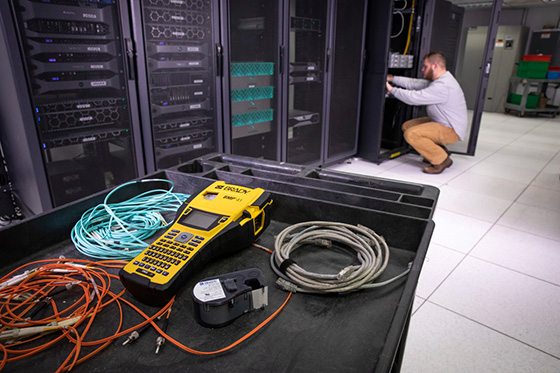 Easy to use
A reliable solution for detailed work
Provides convenient label creation with a variety of label type options
Facilitates label creation with QWERTY keypad or Brady Workstation software
Quickly completes batch label print jobs with ease
Features a long-life NiMH rechargeable battery
Allows user upgradeable firmware
Accessories for increased ease of use
Multi-functionality
Use for a variety of applications
Includes jobsite quick-key options that are ideal for datacom and electrical professionals
Offers the ability to print labels up to 25 mm wide (continuous and pre-sized) from a cartridge
Provides labeling at the point of application
Prints 33mm per second at 300 dpi
Programmed pre-set label type options for wire marking, flags, patch panels and more.
A wide materials offering
Differentiated, durable materials
Unique cartridges are based on your labeling needs
Offers 12 base materials and more than one hundred different cartridges in continuous and pre-sized labels
Popular Rotating self-laminating Vinyl, Shrink Sleeves, Wire Wraps, BradyGrip Print-on Hook material and Indoor/Outdoor Vinyl are offered in enclosed cartridges.
Enquiries: www.bradysouthafrica.com