Schneider Electric South Africa has announced the launch of its Easy UPS 3S in Africa. Making business continuity easy for small and medium businesses, Easy UPS 3S is a 10-to-40 kVA Uninterruptible Power Supply (UPS) that offers robust electrical specifications and compact design.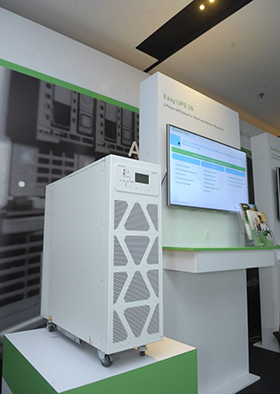 Easy to install, easy to use, and easy to service, the Easy UPS 3S is an exceptional combination of optimised footprint design and advanced product features, providing protection for critical equipment from damage due to power outages, surges and spikes.
The unit delivers up to 96% efficiency in double conversion mode and up to 99% efficiency in energy-saving ECO Mode, taking the industry standards for the 10-to-40 Kva UPS to a new level. Available with or without batteries, to address different business needs, Easy UPS 3S users also benefit from the start-up service option to ensure the unit is configured properly and safely for optimal performance, reliability, safety, and peace of mind.
"Easy UPS 3S addresses a market need we have seen for a solution that offers best-in-class power availability, reliability, manageability, quality, and convenience for small and medium businesses, data centres, and manufacturing facilities," says Riaan de Leeuw, Vice President, Schneider Electric ITD Anglophone Africa.
"We look forward to bringing this new 3 phase 10-to-40 kVA offer to the continent, where Easy UPS 3S is ideally suited for use in a wide range of industries and environments."
Enquiries: www.se.com/za