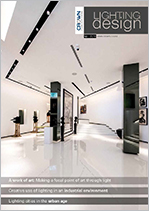 In recent months, lighting designers, manufacturers and electrical engineers have been fortunate enough to have been given the opportunity to broaden their horizons and knowledge at a smart street lighting masterclass and BEKA Schréder's Lightability Seminars.
These two events allowed attendees to delve into the latest technological innovations, leading lighting strategies, and business models and increased their knowledge on the potential lighting of the future presents. Hearing the presentations and wealth of knowledge shared at the seminars, reminded us of an apt quote by physicist William Pollard, "Learning and innovation go hand in hand. The arrogance of success is to think that what you did yesterday will be sufficient tomorrow".
In this issue of Lighting in Design we showcase five unique lighting projects. A close working relationship between architect and electrical engineer has resulted in an efficient and innovative lighting solution for a cold storage facility in Cape Town at the Southern African Fruit Terminals (SAFT) Group; The new AAA grade head office for Cube Route Logistics is located within the Boundary Park Industrial Park, and was carefully designed with the wellbeing of both people and animals in mind; Design-and-build specialist Trend Group had to adhere to strict lighting and acoustic requirements at the new headquarters for Oracle South Africa in Woodmead Office Park; Inhouse were asked to provide a lighting schematic design solution suitable to an upmarket art gallery for a private art collector. The design had to allow for an art exhibition-style lighting scheme where the artwork becomes the focal point; The external lighting strategy of the new Park Square development, devised by Arup, embraces the latest in lighting concepts.
Elsewhere, urban lighting is put under the spotlight; more than half the world's population currently lives in cities and it is estimated that this figure will be 75% by the year 2050. Those involved in the design, governance and implementation of cities are increasingly required to develop innovative solutions to respond to today's exponential urbanism. The life of our cities after dark is only one element of this challenge. Finally, residential lighting and the latest news and products from South Africa and around the world are showcased.