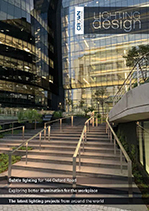 Oh, how things can change in the blink of an eye… Just three months ago in this very issue, we discussed how lighting was shifting into becoming a subset of the tech industry and how the demand for smart fixtures was quickly growing. Now, we are simply clinging on for dear life and hoping to get through this pandemic – an event few of us could have foreseen – relatively unscathed.
The lighting industry, already in the throes of a painful adjustment to a post-LED world, has been thrown into further turmoil by the COVID-19 pandemic. Shuji Nakamura's invention of the blue LED in 1993 swept away many of the lighting industry's most treasured certainties: a high barrier to entry, the lucrative replacement lamp market, significant product differentiation and, crucially, healthy profit margins. For most of the 2000s, CEOs and executives have been scrambling to restructure their businesses to reflect the new reality. Much of this re-engineering was reactive, painful and incomplete. Already it's painfully clear that the COVID-19 crisis of 2020 will make a more dramatic and longer-lasting impression on the sector than Nakamura's discovery almost 30 years ago
In this issue of Lighting in Design we look at three international lighting projects in Dubai, India and China, along with a local South African project where subtle exterior lighting by Regent Lighting Solutions helps to accentuate the shape of the 35 000 sqm premium-grade 144 Oxford Road office development in Rosebank. Elsewhere, Lighting in Design approached manufacturers, suppliers and lighting designers from the industry to get their views on the latest trends in office lighting, façade lighting is discussed in detail and the latest lighting products are showcased.