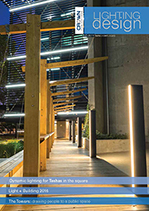 Traditional manufacturers at Light + Building 2016 all unveiled systems that offer compatibility: lighting with a professional service – light management, location-based messaging, broadcasting, energy saving. At certain press events one could be forgiven for being confused as to how much some of the topics had to do with lighting, particularly when presentations focused on connectivity, Smart Cities, energy efficiency and the Internet of Things (IoT).
Described as the 'next big wave of disruptive innovation', much of the technology around IoT is complex and a key challenge facing companies is differing systems that do not talk to each other and do not provide users with a single interface by which to view all the connected objects. It is important that businesses and key people within those businesses access a wide base of experts in order to acquire knowledge and understand and get to grips with what is possible. The general consensus is that within five years lighting will be connected and there will be a move away from silos towards interoperability at data level and via connectivity. This higher level of integration will be required to provide the smart systems that users or tenants of buildings will come to expect. Many innovations have a steep learning curve, but in a few years all this will have become commonplace. Different products will be packaged together, something that has already begun, so there will be no need to install components separately to make them work. Individualisation will be a major trend amongst consumers and no doubt the required technologies will interact seamlessly.
World-Architects organised and conducted 16 guided tours at Light + Building. These were led by lighting experts who each visited the stands of a series of manufacturers for an overview of general design trends. I joined the tour led by Birgit Walter and thoroughly enjoyed being guided through the trade fair by professionals. For a start, there is way less walking and confusion of hall and building as Renato Turri, CEO of world-architects.com who accompanied the tours, is completely at home in Messe Frankfurt so we traversed by the quickest routes. Also, when visiting a stand on your own, you may miss an important point of design or an entire product but Birgit had briefed all the companies we visited so there was someone on site to outline the design elements and purpose of the fittings. We visited seven stands and at each were given insight into the design of the products and an understanding of the effect and appeal of the luminaire that would not have been clear had we simply walked onto the stand. For anyone going to future Light + Building exhibitions, I highly recommend this option. It is offered free of charge and is an excellent way seeing what is available.
In this issue of Lighting in Design we also feature the excellent lighting of Tashas restaurant in Nelson Mandela Square, as well as that of The Towers in Cape Town.
I end on a very sad note. Jenny Warwick, the founder of Crown Publications, has passed away after a long illness. Jenny was a key player in the B2B publishing industry in South Africa. She had enormous energy and enthusiasm and a passion for her business. She particularly loved working on Lighting in Design and even after she retired as publisher at the end of 2014, continued to work on the magazine until ill health made it impossible. All of you who knew her will remember her positivity, her humour, her love of bright colours and her drive. We will all miss her vivaciousness and energy and her highly infectious laugh. RIP Jenny.