Well designed and well maintained urban squares have a positive impact on their local economy, increase social cohesion, offer a safe place for people to meet, and generally improve the environments in which they are situated. They can be excellent marketing tools and, of course, increase the worth of properties in the area. The value of public squares is considerably increased with good illumination, which ensures that their functionality extends well into the night, when people are at ease and looking to enjoy themselves.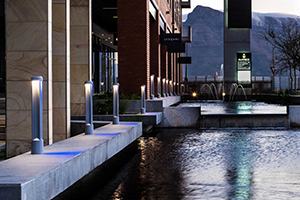 In this issue, we look at the lighting of two urban squares: Century City in Cape Town and Nelson Mandela Square in Johannesburg. The main objective of each was to create a public gathering space for day and night time use. Adding to the appeal of both piazzas is water. At night in Century City, the warm light levels of the precinct lighting are offset by a blue glow over the water body of the canal along the main perimeter road side. The blue light is created by LEDs under the overhanging decks and a single blue light in each bollard creates a repetitive line along the water's edge. A focal point for square events is the Folly, a structural design element which, with automated LED lighting, brings square to life at night and enhances any evening functions.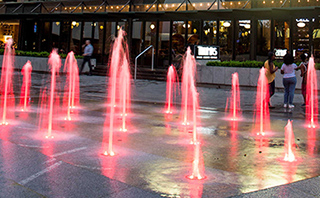 Around a million people visit the newly renovated Nelson Mandela square in Sandton City each month. Modelled on an Italianate piazza, the square – famous for its commanding statue of the great man himself – is enhanced by a fountain, which offers hours of enjoyment for young children during the day. The fountainheads are embedded in a ring of LED lights and the water jets and lights are computer controlled using a program that at night allows for multiple variations in water height and rhythm as well as light intensity and colour. This feature also makes it ideal for special events.
Both squares are spaces that people enjoy and can be proud of – our cities and towns need more of them.
On the subject of enjoyment, not much beats the project created to celebrate the 150th anniversary of the world's largest food company, Nestlé. Tinker, a Dutch 'experience design' bureau, worked with over 100 Dutch designers, engineers and builders to design the scenography for nest (Nestlé means little nest in German), a museum located close to where Henri Nestlé opened his first factory in 1866. The project, which aims to show what the company stands for in a transparent and inspiring way, takes visitors on an interactive journey through the past, present and future across five zones. Light directs, creates and focuses attention of visitors and, along with technology, is used in a way that contributes to the authentic feel of the entire experience. It looks like a wonderful place to visit for anyone who finds themselves in Vevey in Switzerland.
Other articles in this issue include Mall of the South, a retail development in the south of Johannesburg and an interesting piece by Henk Rotman who notes that we still have a lot to learn about using the advantages of LED technology and translating them into value added benefits.