Waterfall Wilds is a retail centre in the prestigious Waterfall region, an urban development that aims to become a 'green city' and prides itself on contemporary urban design and approved planning principles.
Krynauw Nel, well known for his philosophy of harmonious integration of human and environment, was the architect responsible for the design of the 2900 m2 centre. As one would expect, it is less conventional than the average building in the area and has minimal visual impact on the environment.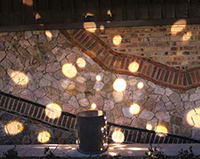 The design of the building takes into account the environmental features of its setting – grassland on three sides and a view of the Jukskei River – with stone facades and pavements, indigenous trees and a plant nursery all contributing to the natural feel of the space.
João Viegas of Pamboukian Lightdesign used minimal light when planning this centre. At night, the internal illumination of the retail outlets is visible through the glazed sections of the external façade and break it to create attractive light that does not impact on the environment. The ambient lighting is warm and comfortable and the fittings designed to limit glare. Façade lighting is focused onto stone walls and a visual boundary is created for patrons enjoying a sunset evening by the uplighting of an occasional Acacia tree along the edge of the property. The external pole lighting in the parking areas combines natural and modern to offer excellent visibility and dark sky friendly light. All-in-all the lighting at Waterfall Wilds is simple and effective, and succeeds in enhancing rather than detracting from its immediate environment.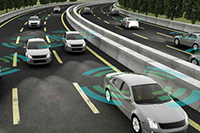 In this issue of Lighting in Design we have two articles relating to street lighting. The first considers what, if any, roadway lighting would be required in a world of driverless cars. Driverless cars at this stage, especially in Africa, seem like a Sci-Fi concept but we are all too aware of the upheaval caused by advances in technology; in the lighting industry they have been considerable. Author Paul Tarricone speaks to several lighting specialists and though their responses are diverse they agree that roadway lighting, though it is will differ from what we have now, will always be necessary and driverless cars, as Bullough says, may give us the opportunity to refocus scientific enquiry on pedestrians, who have been a neglected part of our transportation environment.
In the second article Johnny Chang and Tim Patel of Littelfuse Inc. point out that at least a third of the total cost savings attributable to switching to LED streetlights are as a result of the extended lifetimes offered by the fixtures. To ensure long-term cost-effectiveness therefore it is vital to protect them from the damaging effects of lighting-induced surges.
The Haute Lumière Light Competition, a Paul Pamboukian initiative to grow awareness of the importance of light as a design tool and to encourage young designers to rethink artificial light as a crucial, primary aspect of design, is in its ninth year. Instead of covering the entrants of the 2016 competition, this year we changed focus slightly to look at what previous winners, whose prize is a fully paid trip to the Lights in Alingsås workshop, learned and enjoyed most about their trips. By all accounts, this year's winner Biance Barnard with her winning entry Articulight, has a treat in store.
We are almost at the end of another year and Adel, Carin and I would like to thank readers and advertisers alike for your support and wish you all a happy and safe year-end break, and good health and prosperity for 2017.
Till next year!