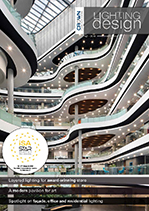 Light + Building, the biennial architectural design and technology trade fair focused on the fields of lighting, electrical engineering, building automation, and civil-engineering software, is seen as a forerunner for the industry – much like the latest motor vehicle designs and nifty additions at auto shows, what emerges at the fair as a latest innovation, tends to filter through the industry over the next few years, as the standard.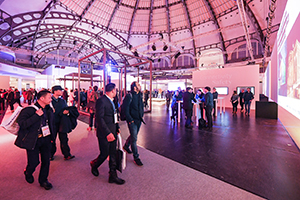 Although we weren't fortunate enough to attend the event this year, we did keep a close eye on proceedings, and in terms of originality and excitement, Light + Building 2018 didn't disappoint
In terms of projects, this issue we explored probably the most talked about building this year, the new Discovery global headquarters in Sandton which has become the largest new build project to date to receive a 5 Star Green Star rating by the Green Building Council South Africa (GBCSA). Lighting in Design spoke to the main role-players to find out what goes into lighting a building of this nature.
We then change pace slightly and see how the brief to Dakota Design, the interior architects and retail designers for Exclusive Books at Ballito Junction in KwaZulu-Natal, was clear; design a space that will encourage like-minded patrons "to have conversations" in the store. The vibrant, colourful store was a worthy winner of the 2017 Retail Design and Development Award (RDDA) for best Retail Store Design within a shopping centre in South Africa.
Finally we examine The Norval Foundation in Steenberg, a multi-sensory celebration of art, architecture and landscape, provided a unique opportunity for the project team; a client brief with the aspiration to create a world class art and cultural centre in an exceptional location.
Other articles in our latest issue include a new light fitting to assist those in the panel beating industry, an interview with Otto Horlacher from Giantlight on façade lighting, a technical article on selecting the correct LED driver, tips for office and kitchen lighting as well as a report back on Light + Building 2018 from a South African perspective and all the latest news and new product releases.