Proving that a change in lighting can save retailers money, and at the same time increase sales, would make a very persuasive argument. Numerous studies have been conducted to substantiate this, among them a 21-week field research project by Dutch supermarket group, Plus, and Philips Lighting in 2010.
Using different LED-based lighting scenarios, the study was designed to measure the impact of light on customer buying behaviour. CQM was enlisted as an external market research agency along with the Retail Design Research Lab of the PHL University of Hasselt to evaluate the return on investment for retailers from implementing LED lighting solutions. A tracking system was installed in shoppers' grocery baskets to trace shopping habits such as the time spent in certain parts of the supermarket, their routes around the store and parts of the shop they were drawn to. AmbiScene-controlled lighting was fitted on the one side of the store, while the other side of the supermarket was lit with traditional lighting and different lighting scenarios were applied over alternating days.
The results showed that the introduction of the lighting system increased basket sales, with the average sales per customer up by 1.93 percent related to the dynamic lighting installation. Further analysis of the results also showed that customers spent more time in the areas lit with warmer light settings than those with cooler ones.
What is clear from the above – although scientifically proving the results is virtually impossible – is that lighting in a retail environment does matter. While some retailers view it as just one of the numerous aspects to their stores, others, such as the two contrasting retail projects we present in this issue, see lighting for what it is (and can be); an aspect that plays a vital role in bringing the whole design of the store together, and attracting/retaining customers.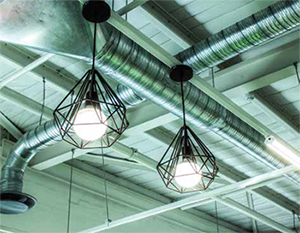 Our first case study is the new Leroy Merlin 'big box' retail store at Stoneridge Centre in Greenstone, Johannesburg. It is the world's largest home improvement retailer's first foray into the African market and comes in the form of a 17 000m2, covering two floors – parking and a drive-through building materials yard on the lower level and showrooms, trading floor, storage area, office space as well as a pick up zone on the upper level.
Next we explore the FMCG market where SUPERSPAR Blackheath has seen turnover increase since its renovations, which included a new lighting design.
Elsewhere in the issue we feature Embassy Towers, an exclusive apartment building in the heart of the Sandton CBD, the relaunched One&Only Le Saint Géran hotel in Mauritius, consult the experts on street and bathroom lighting and discuss whether there is a future for 'unconnected' lighting.