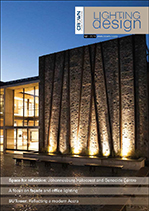 Whilst we weren't fortunate enough to visit Euroluce in April, we did keep a close eye on the trends coming out of Milan. Euroluce is a biennial light fair that takes place in Milan alongside Salone del Mobile, the Milan Furniture Fair. This year's edition hosted more than 400 exhibitors from around the world and showcased a new direction in lighting: multitasking fixtures for all-around comfort.
Judging from this year's exhibits, shown April 9 to 14, the lights of the (near) future will incorporate features that not only illuminate space but also enhance user experience. Some incorporate soundproof panels to make noisy environments more comfortable; others are integrated into bookcases, tables and walk-in closets; and many stand in dialogue with other technologies, furniture and even the natural world. New applications of human-centric lighting theory give users the ability to customise their lights according to specific circadian rhythms, geographic location or activities.
The lighting industry is currently a very exciting place to be. Innovation continues unabated and for many, it is no longer just about providing a source of illumination to a project, it is a collaborative, problem-solving solution to a challenge. Long may it continue.
In this issue of Lighting in Design we four unique lighting projects. The Johannesburg Holocaust and Genocide Centre opened its Permanent Exhibition in March this year. Architect Lewis Levin and lighting designer, Paul Pamboukian included light as surface, light as texture, light as a tapestry, contour, and space in the project. Strategically situated at a busy intersection, and visible from all cardinal points, the SU Tower in Accra, Ghana is designed to respond to a circular site, while transforming a traditional box tower into an architectural landmark in the area. Back in South Africa, the three-storey 78 Corlett Drive project incorporates strong minimalist geometries, with shading louvres acting as a dynamic façade element. A restrained lighting treatment was called for to draw attention to the façade, and finally the iconic Harrington in the Cape Town CBD has been transformed into a state-of-the-art collaborative workspace. Lighting Innovations Africa has designed a lighting solution with a vibrant, modern look and feel by using continuous LED luminaries.
Elsewhere, office lighting, façade lighting, residential lighting and the latest news and products from South Africa and around the world are showcased.