There are only a handful of South African companies that can claim to be world leaders in their field. One of this select group is arguably Weba South Africa, designer and manufacturer of the innovative Weba Chute System. The company now has over 4 000 installations in the field worldwide which collectively handle more than 2 billion tonnes of material a month. "We believe we probably rank as the world's largest dedicated manufacturer of engineered transfer chutes by far," says Weba's Managing Director, Mark Baller. "I can't think of a single company globally that rivals us."
While chute design and manufacture might seem to many a routine, low-tech process, Baller insists that this is not the case. "Chutes can have an enormous impact on production at mines and we are often called in to replace chute systems that are simply not doing the job they were intended to do," he says. "Some mine owners regard chutes as simply being platework. This is a big mistake and the impact on the bottom line can be huge when a chute fails to perform or even fails altogether."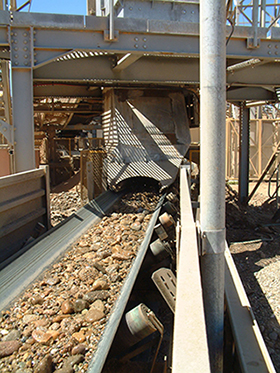 Weba Chute Systems are engineered specifically for a given application requirement.
Baller says that successful chute design is an extremely complex process that depends as much on in-depth experience as on technology. "Obviously, Weba uses all the latest technological tools such as Computer-Aided Design (CAD), three-dimensional scanning and discrete element modelling (DEM) but these alone are not enough," he says. "Our years of experience and thousands of successful installations inform Weba's design process and ensure that the company provides clients with highly effective solutions that optimise material flow in mining environments."
Weba Chute Systems come in many different sizes and configurations but are generally based on two basic designs – the Cascade chute system or the Superflow liner system. In the case of the Cascade chute system, 95 % of the material runs on material at all times. This principle reduces degradation of materials by controlling the flow of the material, and this, in turn, reduces wear and tear, noise and dust pollution, spillage, excessive impact and subsequent belt damage.
Says Baller: "We control material flow from the time material enters the chute to the time it leaves the chute – we make sure that it goes where we want it to go and not where it wants to go. We control direction, volume and velocity. Where the chute feeds an outgoing conveyor, we match up with the conveyor speed in the direction of travel and we design in such a way that minimal kinetic energy – in other words, impact – is transferred to the conveyor belt."
He makes the point that the savings on belt life alone – irrespective of the many other benefits – make a compelling case for the Weba Chute System. "We often come across cases where conveyor belts are literally being beaten to death by poor chute design and we are almost always able to rectify matters. In one particular application where we were called in, belts were having to be replaced every nine months or so. Now that we've installed our chutes, they're lasting for several years. As a general rule of thumb, we estimate that a Weba Chute System will pay for itself within 12 to 18 months, and often much less."
The Weba chutes are noted for their durability with one installation in South Africa still performing efficiently 20 years after it was first installed. Further afield, in Wyoming in the United States, a Weba chute at one of the country's biggest coal mines has now operated for 12 years handling 6 500 t/h on an almost continuous basis. "Probably about 600 million tonnes has gone through this particular chute and it looks good for many more years of operation," says Baller.
Part of the reason for Weba's success, Baller contends, is its philosophy that there is no such thing as an off-the-shelf chute. "We regard every installation as unique. Each application is individually assessed to ascertain its particular requirements and the most appropriate solution is provided. Wherever possible – for example, when we are retrofitting to an existing plant – we will visit the site to ensure that we fully understand the physical constraints we face." He adds that 3D scanning can streamline common surveying tasks and generate accurate 3D models from on-site conditions.
Relating the history of Weba, Baller says the company – then known as M&J Engineering – was acquired by his father Werner in 1984. "M&J was quite small and concentrated on modular underground coal mining equipment. The focus changed when my father – who is semi-retired but still involved with the company – was asked to design and supply a chute. The chute business became progressively more important after that first installation and today we are a specialist chute manufacturer – the other product lines we had are long gone."
He adds that the name 'Weba' – which first described the chute system but is now the company's name as well – was derived from the first letters of his father's first and last names.
Baller says that Weba's early chute systems were designed and developed manually. "We made templates and models," he explains. "Today we use CAD and DEM. Alwin Nienaber, our Technical Director, was responsible for bringing CAD expertise into the business and he continues to ensure that our technology remains up to date. Our manufacturing facilities here at our Wadeville premises are state of the art and include CNC plasma-cutting machines."
Baller and Nienaber, who both joined the business in the 1990s, now manage a company which employs 138 people in South Africa (and which has a level 4 B-BBEE rating). Weba also has an extensive international footprint, with wholly owned subsidiaries in Perth, Australia, and Santiago, Chile, as well as agents in another 12 countries. The company's chutes – with capacities ranging from 40 t/h to up to 12 000 t/h – have been installed in 18 countries and the Weba name is now well known in most of the world's major mining regions. Recent overseas successes have included the first installation in Chile – at an opencast copper mine – and a further three chutes in a repeat order for a Turkish steel mill.
Notwithstanding the international success Weba has had, South Africa remains its biggest single market, with nearly 2 800 installations in place. One mine alone – a large iron ore operation in the Northern Cape – has over 260 Weba Chutes supplied over a 10-year period. Outside of South Africa, the biggest installed base of Weba Chutes in Africa is in Botswana, where approximately 340 have been installed, but Zimbabwe, Namibia, Zambia, the DRC and Ghana are also important markets.
Commenting on current market conditions, Baller says that Weba's order pipeline has held up well throughout the mining recession of the past several years. "There've been some quiet patches but we are fortunate in that we do a great deal of maintenance work which has helped to balance out the periods when new projects have dried up, so we've been able to more than hold our own through the downturn," he says.
"Currently, we see some interesting developments on the horizon. The South Africa market remains relatively subdued but we have a new client lined up in Zambia, we're expecting our first order from Mozambique, and we see great potential in Zimbabwe, where we have traditionally been strong. Overseas, we're busy with work in Turkey and the US and we also have some solid enquiries coming out of Canada and Chile. Overall, we're very positive about prospects and are confident that we have some good growth ahead."
Report by Arthur Tassell, photos courtesy of Weba South Africa