The Letšeng diamond mine of LSE-listed Gem Diamonds in Lesotho recovered a record 15 diamonds greater than 100 carats in 2018, including the 910-carat 'Lesotho Legend', as well as a record number of diamonds greater than 20 carats. Overall, the mine produced 126 875 carats over the year (compared to 111 811 in 2017), with the average value achieved being US$2 131 per carat, a 10 % improvement over 2017.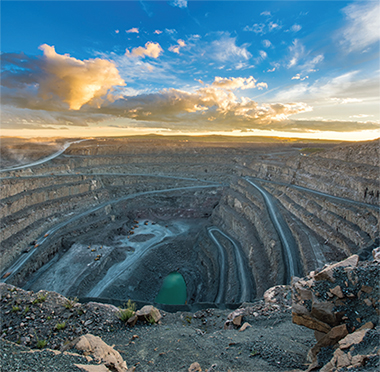 Revenue for 2018 (Gem's financial year coincides with the calendar year) was US$267,3 million compared to US$214,3 million in 2017, delivering a profit of US$46,6 million, well up on the figure of US$20,8 million (before exceptional items) recorded in 2017. Earnings per share rose from 6,56 US cents before exceptional items in 2017 to 18,80 cents in 2018.
In 2017 Gem launched a Business Trans­formation programme with the aim of achieving US$100 million in incremental revenue, productivity improvements and cost savings by the end of 2021. The latest results indicate good progress towards achieving this goal.
Situated in the Maluti mountains, Letšeng – which has a workforce of over 2 000 people – mines ore from two pipes, the Main pipe of 17,0 ha and a Satellite pipe of 5,2 ha.
During 2018, Letšeng reduced its waste tonnes mined by 3,9 million to 25,8 million tonnes. This reduction was achieved through improved drilling and blasting techniques enabling the incorporation of a number of Business Transformation initiatives, most notably the steeper inter-ramp slope angles. This steepening has resulted in significantly lower life of mine (LoM) stripping ratios while increasing and bringing forward the ore tonnage mined from the higher-value Satellite pipe, considerably increasing the mine's LoM net present value (NPV).
Tonnes treated during 2018 increased to 6,5 million, of which Letšeng's plants treated 5,4 million (2017: 5,3 million), with the remaining 1,1 Mt being treated by Alluvial Ventures (AV), a third party contractor (2017: 1,1 million). The contract with AV has been extended to mid-2020. The contribution from the higher-value Satellite pipe material increased by 3 % to 2,2 Mt. Of the total ore treated, 61 % was sourced from the Main pipe, 33 % from the Satellite pipe and 6 % from the Main pipe stockpiles.
Both Letšeng plants were stopped during May for planned major maintenance work, adversely affecting the availability of the plants during H1-2018. The planned replacement of the scrubber shell in Plant 2 was completed on schedule. However, an unexpected and significant repair to its concrete foundation delayed the shutdown by 10 days. The impact of this additional downtime was mitigated by the temporary installation of a scrubber bypass conveyor.
Following this extensive maintenance and the enhanced efficiencies resulting from various Business Transformation initiatives, the plant runtime improved. This resulted in a significant increase in the tonnage treated during H2-2018.
Overall grade for 2018 was 1,94 cpht, due in part to the Business Transformation initiative to re-treat tailings material through a mobile XRT sorting machine. This machine recovered 11 905 carats in 2018, of which 6 233 related to historical (pre-2018) tailings material.
As mentioned, Letšeng recovered a record number of diamonds greater than 100 carats during 2018, the biggest being the 910-carat Lesotho Legend, which ranks as the largest diamond ever recovered at Letšeng and the fifth largest gem-quality diamond recovered globally. The trend for improved recoveries in 2018 was consistent across all size categories, with a 21 % increase from 2017 for the total number of diamonds recovered greater than 20 carats.
During the year, Gem, through its subsidiary Gem Diamonds Innovation Solutions, (GDIS), continued to make good progress in the development of its two key technologies to (i) identify locked diamonds within kimberlite; and (ii) to liberate diamonds using a non-mechanical process. These technologies are aimed primarily at limiting diamond damage and reducing operating costs.
The company approved a US$3,0 million pilot plant to be constructed at Letšeng which employs innovative technology to identify diamonds within kimberlite ore. This project will also include the use of a prototype high-voltage pulse generating unit to liberate the diamonds. Gem anticipates that the pilot plant will be commissioned during Q2-2019. The results and outcomes emanating from the pilot plant operation will determine the way forward in respect of these technologies, says the company.
Commenting on the 2018 results, Clifford Elphick, Chief Executive of Gem Diamonds, said: "Gem Diamonds achieved a good set of results, characterised by the recovery of 15 diamonds greater than 100 carats, a record for a single calendar year. Production in 2018 also included the highest recovery of diamonds greater than 20 carats, with 80 % of revenue primarily generated by diamonds greater than 10 carats.
"The mine plan for Letšeng was revised during 2018, with the aim of further reducing the waste stripping through the steepening of inter-ramp slope angles. Mining in accordance with this plan has commenced and is expected to significantly increase the net present value of the mine.
"The Business Transformation process has progressed well and remains on-track to achieve the target of US$100 million in cost savings and efficiencies by 2021. By December 2019, the initiatives already implemented are expected to deliver US$64 million to the end of 2021."
Photo courtesy of Gem Diamonds